Throughout history, there have been innumerable obstacles to reaching women in leadership positions and participating fully in the economy.
The persistent challenges women face in the workforce, such as wage inequality and limited career growth prospects, have prevented them from achieving their full potential. However, the tide is turning.
As we live through unprecedented change and progress, where social equality and equal representation are finally becoming a reality.
Women fuel this transformation. They are breaking down boundaries and shattering glass ceilings to rise above and pave the way for future generations.
The birth of a new era is upon us. Now women have the power and authority to shape their destinies and lead us all into a brighter, more equitable future.
In this article, we will explore why we need more women in leadership positions and the challenges women face when reaching leadership roles.
Closing the Gap
In 2022, a survey among 250 Indian companies revealed that the share of women in India's Chief Executive Officer or Managing Director roles reached 55%. 
In 2023, more than 10% of Fortune 500 companies will be led by women for the first time in its 68-year history.
On January 1, 2023, five new Fortune 500 CEOs began their careers, bringing the number of female CEOs to 53, a milestone long overdue.
Yet, the representation of women in leadership positions still needs to improve across many sectors, despite the significant progress made in recent years.
While women make up half of the population, they are underrepresented in leadership roles in many industries.
This lack of representation has significant implications for the workplace and society as a whole. 
Take a look at a few most successful women who broke the shackles and touched the success horizons.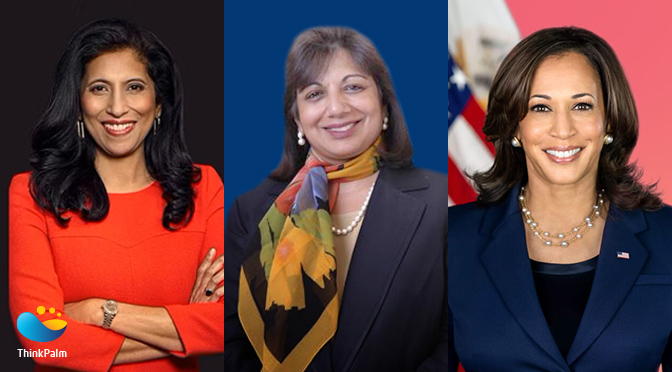 Leena Nair, Global CEO of Chanel (A French luxury fashion house & also the best-selling clothing brand in the world)
"Being the first woman in every single job I have done means I get to see just what it means to be in a job that feels built for someone else. I always say, 'We're all in the same storm; we're not in the same boat,"
Kiran Mazumdar-Shaw, Executive Chairperson of Biocon (India's largest biopharmaceutical company)
"I faced huge credibility challenges in the early part of my entrepreneurial journey, which were largely gender-related biases. I overcame them by taking them head-on. By demonstrating business success, I could decrease the risks associated with my gender, age and the novelty of my business," 
Kamala Harris, Vice President of the United States
"Success isn't about winning everything. It's about achieving your dream, whether teaching middle school or flying jets. And no matter what, women need to work twice as hard as men to achieve those dreams."
The Significance of Having Women In Leadership Positions
The significance of women in leadership roles is immeasurable. It goes beyond mere equality and extends to the effectiveness of an organization. Women bring unique perspectives, experiences, and skills to the table, making their voices and leadership vital to achieving true equity in all aspects of life. 
Despite facing countless obstacles and challenges, women have been breaking down barriers and reaching high positions of power in all sectors. Now is the time to continue breaking down those barriers that have traditionally held women back from positions of power and influence. 
Numerous studies have confirmed that gender-diverse teams and companies excel compared to their non-diverse counterparts. Moreover, women's varied perspectives and experiences in leadership roles can promote innovative solutions and superior decision-making. 
Further, women who hold leadership positions will serve as inspiring role models and mentors, enabling other women to break the glass ceiling that has historically held them back.
Now let's explore the benefits of having more women in leadership positions and the significance of women breaking down the barriers and reaching the top levels.
Diversity & Inclusion
One of the primary reasons why we need more women in leadership positions is to promote diversity and inclusion.
When leadership comprises individuals with diverse backgrounds, experiences, and viewpoints, it is better equipped to navigate a rapidly changing business landscape.
A more diverse leadership team can better represent the varied perspectives and experiences of its workforce and customer base.
This, in turn, can lead to more creative and innovative solutions to complex problems.
Improved Financial Performance
Studies have shown that companies with more women in leadership tend to perform better financially.
A 2018 study by McKinsey & Company found that companies in the top quartile for gender diversity on their executive teams were 21% more likely to experience above-average profitability than companies in the bottom quartile.
This finding suggests that gender diversity in leadership can positively impact a company's bottom line.
Gender Equality
Another reason why we need more women in leadership positions is to promote gender equality.
Women make up half of the population, and their representation in leadership should reflect that.
Having more women in leadership positions can help to address gender inequality in the workplace by promoting equal opportunities for career advancement and equal pay.
Challenges Women Face When Reaching Leadership Roles
Despite the many benefits of having more women in leadership positions, women continue to face significant challenges when trying to reach these roles.
Here are some of the main challenges women face:
Gender Bias & Stereotyping
Women may face preconceived notions about their abilities or leadership styles based on gender.
For example, women may be seen as too emotional or nurturing to be effective leaders, while men are considered confident and assertive.
This can lead to a lack of confidence in their abilities, making advancing their careers more difficult. 
Lack of Access to Networks & Mentors
It is a popular assumption that women require greater access to networks and mentors to advance in their careers, implying that they cannot achieve success through individual effort alone.
Additionally, there is a prevalent belief that leadership positions are obtained through personal connections or word-of-mouth, which can place women at a disadvantage if they lack access to the same networks as men.
Also, it's widely said that women may need help finding female mentors or role models who can provide guidance and support.
But many successful women have proved these false assumptions and theories wrong by displaying that talent and hard work will always win against all the odds.
Unequal Opportunities
Women may be given fewer leadership opportunities or face a "glass ceiling" that limits their upward mobility.
This can be due to various factors, including gender bias and a lack of diversity in decision-making positions.
This significantly reduces their prospects for promotions and better opportunities.
The nucleus of this is their family responsibilities and a few other factors.
Work-Life Balance
Women often face difficulties in taking up demanding leadership roles due to the societal expectation of them being the primary caregivers at home. This limits their time and energy for professional pursuits. Besides, women have been found to score higher on empathy tests and emotional intelligence, indicating their compassionate nature.
Women may need to take up organizational leadership positions more seriously to overcome these challenges. Prioritizing other aspects of their lives may make them appear less committed to their careers.
Employers can create a more equitable workplace for women by offering flexible work arrangements. This can include options such as telecommuting, working from home, or part-time schedules.
Organizations can support women's career advancement by addressing their unique challenges in balancing work and family responsibilities. In fact, they can sustain women's career advancement by creating an inclusive and diverse workplace culture for them.
Pay & Benefits
The existence of the gender pay gap is a troubling reality. It highlights persistent inequalities between men and women in the workplace.
Despite having equal qualifications and job responsibilities, women still receive lower compensation than their male counterparts.
Employers often provide lower compensation and benefits to women than their male counterparts. This presents a significant challenge for women seeking leadership roles.
The pay gap can make it difficult for women to assume leadership positions. Especially if these roles involve long working hours or frequent travel.
Besides, women may encounter obstacles in accessing benefits such as paid parental leave.
These obstacles can impact their capacity to balance work and family responsibilities.
All of these factors make it crucial to address gender-related disparities in the workplace.
Moreover, considering all of these factors, these actions can support women's leadership aspirations.
It's Time for a Better Dawn Where all Can Breathe the Same Air
There was an Indian woman who made the nation proud, Mary Kom, a six-time world amateur boxing champion.
The one who won a bronze medal in the 2012 London Olympics and a gold medal in the 2014 Asian Games.
As one of the world's top boxers, she received multiple awards, such as the Padma Shri, Padma Bhushan, and Rajiv Gandhi Khel Ratna. She has also served in the Rajya Sabha as well.
"Don't let anyone tell you you're weak because you're a woman." – Mary Kom.
There is no better way to describe her than with this powerful quote.
Women have the power to change the world and are the change-makers who proved 'it pays to dream big'.
The Brave Women Who Defied the Odds
Many brave women defied the odds, shattered stereotypes, and pushed boundaries, inspiring future generations.
Their achievements across fields like science, arts, and entrepreneurship have enriched our culture, improved our lives, and advanced our freedoms.
Regardless of whether they are well-known figures or unsung heroes, they have all contributed to making the world a better place.
It's time to act and prioritize gender diversity in leadership. Let's bring more inclusivity to construct a fairer, more egalitarian society.
Let's stay awake and strive to build a better workplace and world with the potential to reach its zenith.
Leading the Way: Women who Shape the Future of ThinkPalm
At ThinkPalm, we hold equality and diversity in the highest regard, recognizing the significance of breaking gender barriers in leadership to attain true inclusivity.
Our efforts to empower women in the workplace are evident through initiatives like the Great Place to Work for Women awards and the Sakhi forum, which proactively address women's issues and promote their interests. 
We are proud of our considerable ratio of women in the workforce and value their unique perspectives, which has resulted in many women team leads and lead HRs who have served our organization for years.
As an organization, we strive to build an egalitarian workplace, devoid of any barriers based on gender, caste, creed, or color, and usher in a new era of inclusivity.
---