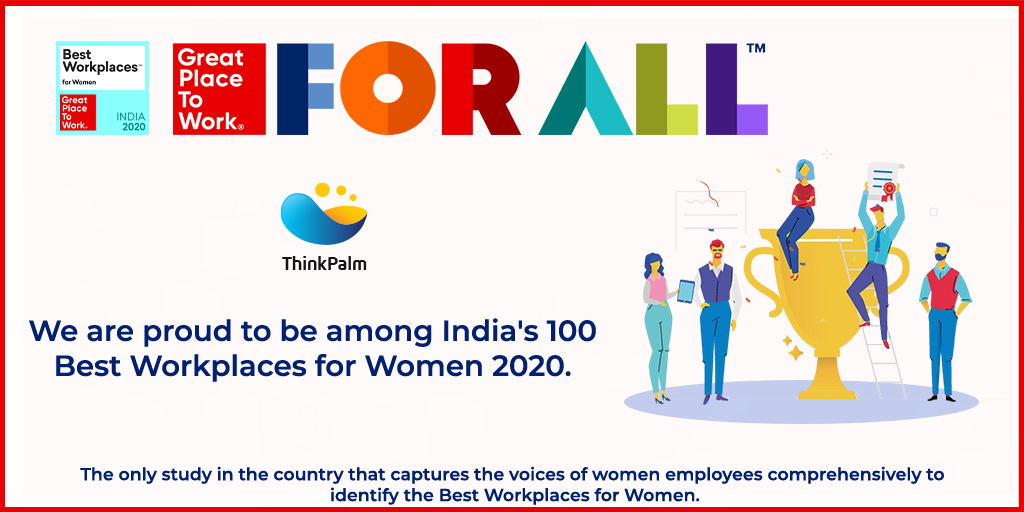 The Great Place to Work® has released its annual list of the Best Workplaces for Women in 2020 and we're proud that ThinkPalm has been recognized as one of the top 100 best workplaces on the list. ThinkPalm has over 39% of women employees in the organisation and received more than 70% positive feedback on Trust Index women employee survey, which has contributed to the organisation being placed among the 100 Best Workplaces for Women in the year 2020. Apart from this achievement, ThinkPalm has also been honored with "The Great Place To Work Recognition" for the fourth consecutive time this year.
What made ThinkPalm stand out with the other top 99 organizations was the experience of women, including the element of gender parity, the people practices specific to women employees and involvement of women across all hierarchical levels in the organization. For ThinkPalm, gender diversity and inclusion has been a winning factor with sincere intent and commitment towards creating an egalitarian workplace. The organization built up an equitable environment where fairness has always been a bedrock, making ThinkPalm a workplace truly desirable by women employees. 
ThinkPalm has created opportunities for women to lead innovation in various sectors, where their potential and talent are nurtured, such that they are made capable of enhancing their leadership qualities. The organisation has achieved this level of diversity through a variety of unique programs and resources aimed at supporting and empowering employees. Internal networking forums, such as Sakhi and The Women Harassment Prevention Committee have played a significant role in empowering women by addressing their issues proactively, as well as by promoting women's interests.  It's a space for women and allies to openly share their views, host events to educate others, gather to network, and innovate on ways that can contribute to women empowerment in the workplace.
Even during the current COVID-19 crisis, ThinkPalm has taken important steps to support its employees by providing resources to help them work remotely. The HR team has also incorporated engagement activities and social media contests to keep ThinkPalmites entertained. All these activities have significantly helped the employees at ThinkPalm, especially women because most of them have to manage housework and children along with their office work.
At ThinkPalm, we are incredibly humbled to make it the top 100 Best Workplaces for Women list out of 852 other organizations this year, with over 4,59,386 women employees across various industries. This recognition is a reflection of ThinkPalms' true dedication to fostering a community of leaders who are diverse in gender, perspective, thought, and more. It is also an encouragement for ThinkPalm to stay focused on workplace equality and to continue innovating on ways to make employee and customer satisfaction the fundamental priority.