Today, IoT is more advanced than ever before. Since its emergence, it has contributed to many technological changes and has paved the way for new innovative breakthroughs. Especially, when you take a look at the market for the Internet of Things, it is rapidly growing to such an extent that from a simple smart TV to an automated robot, millions of devices are now connected to the cloud. One of the main concerns with connected devices is security. Sometimes, devices are often connected to networks without considering security, hence paving the way for unwanted, harmful malware to enter the device easily. What's making it worse is that maybe the devices are rarely updated, running the same insecure firmware as from day one. Therefore, increasing security risks and vulnerabilities. 

So how can we make it secure and keep the devices safe? This is where Microsoft's Azure Sphere falls into the picture.
What is Azure Sphere?
According to Microsoft's documentation website, Azure Sphere is defined as 'a secure, high-level application platform with built-in communication and security features for internet-connected devices.' 
Microsoft's defense-in-depth IoT platform mixes software, hardware, and the cloud to protect your network and your devices from unwanted access into the system. This solution also involves an application platform and an operating system. This renders product manufacturers with a possibility to build secure, internet-connected devices that can be regulated, monitored, updated, and maintained remotely. There are three main components for Azure Sphere. They include Secured MCU, Secured OS, and Cloud Security. 
Three Main Components For Azure Sphere
1. Secured MCU
This is the first component of Microsoft's Azure Sphere. It is a  crossover class of MCU. It has built-in Microsoft security technology and connectivity. 
2. Secured OS
The second component is a profoundly-secured operating system from Microsoft with a customized element working on top of Microsoft's Security Monitor. This provides a reliable defense-in-depth platform.
3. Cloud Security
The third component secures every Azure Sphere device by recognizing emerging threats, rebuilding security, and ensuring trust between devices and the cloud. 
Five Benefits of Azure Sphere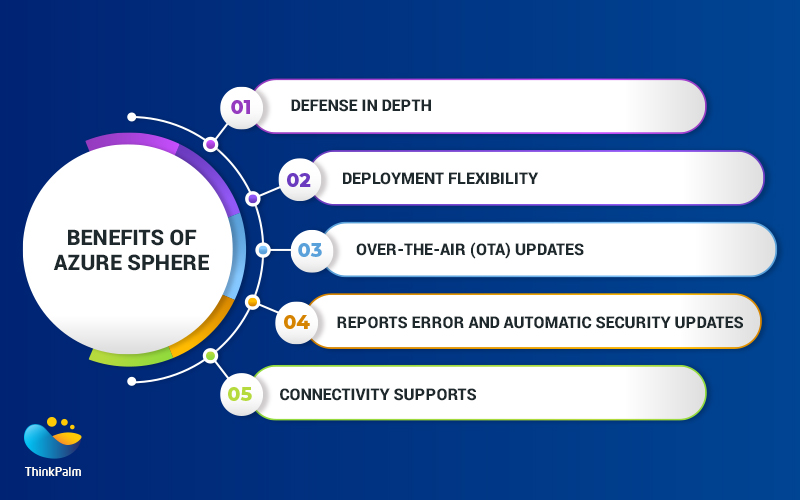 1. Defense in Depth
This is regarded as the fundamental benefit as it provides various layers of protection to help secure devices against and respond immediately to threats. 
2. Deployment Flexibility
Azure Sphere's deployment flexibility is the reason which assists you to defend the current equipment and strengthen protection into new IoT investments.
3. Over-the-air (OTA) Updates
 This is the update that makes it easy for your devices to add new features and enhance performance throughout device lifecycles. 
Also Read: The Three Cloud Service Models (PaaS, SaaS, IaaS): Here's How You Can Choose The Right One for Your Business!
4. Reports Error and Automatic Security Updates
This is another benefit that allows your devices to report ongoing errors and help you stay ahead of new and evolving threats.
5. Connectivity Supports
Despite all the other benefits Azure provides, this might be one of the most common as well as one of the most beneficial aspects. That is, it supports wireless connectivity, ethernet connectivity, Bluetooth LE connectivity, and cellular connectivity throughout devices. 

How does Azure Sphere Protect its IoT Deployments?
Azure Sphere has been widely popular among major companies, such as Starbucks, Purell, and Elettrone because of the vast advantages it provides as well as how it protects their IoT deployments. 
Azure Sphere-certified Chips- 
The certified chips from hardware partners comprise built-in Microsoft security technology to implement a reliable hardware root of trust as well as seamless connectivity. 
Azure Sphere Security Service
The security service of Azure Sphere mainly focuses on three factors. They are- it ensures trust for device-to-cloud communication, renews IoT device security, and detects new incoming threats. 
Also Read: How Has IoT Evolved In The Logistics and Supply Chain Industry? Why Is It Important In The Coming Future?
Azure Sphere Operating System (OS)
This is a far more old operating system built-in by Microsoft which adds layers of security and continuous updates to generate a trustworthy platform for new IoT experiences. 
The Best-In-Class Security Experts of Microsoft
Microsoft is one of the leading global giants today and there is no question that they have the best-in-security experts on hand. They monitor emerging threats, regularly design updates, and also provide a decade of seamless ongoing servicing. 

How ThinkPalm helps Deploy Secure IoT services
As the days go by, new advanced services, as well as IoT services and mobile app development services, are on the rise and companies are typing to keep up with everything new the tech world has to offer. Companies have implemented Microsoft's Azure Sphere because of all the benefits it provides for their devices. Azure Sphere implements a comprehensive solution not merely based on hardware, but also cloud service and software.
Here, at ThinkPalm, we offer end-to-end Internet of Things services to help you gain a sustainable competitive advantage by tackling the challenges of integrating wearables, sensors, networks, cloud, and applications without compromising on security. With our industry-specific knowledge and IoT technology expertise covering Firmware Development, Mobility, Cloud computing, and Data Analytics, we help you transform your business through informed decisions based on powerful data analytics. Contact us to get started with IoT & Cloud Based Digital Transformation. 
---