We live in a country where 49 million people live in conditions of extreme poverty, unable to access even the most basic necessities. At ThinkPalm, we understand that we have moral and ethical responsibilities towards these less fortunate souls. ThinkLife, our CSR forum, is a result of our efforts to acknowledge and embrace the responsibility we have towards the society as a whole. Of the many philanthropic ventures of ThinkLife, WishTree is one of the most fulfilling initiatives.
WishTree was conceived during the Christmas of 2017. While festive months like Christmas are seasons of merriment and joy for us, these months are also when social disparity is most evident. The fact that many families are unable to afford simple gifts is a damper for all of us. If we could somehow help such families, it would be make Christmas all the more meaningful. This thought gave birth to WishTree, an initiative that collects wishes from underprivileged children, and finds sponsors for those wishes.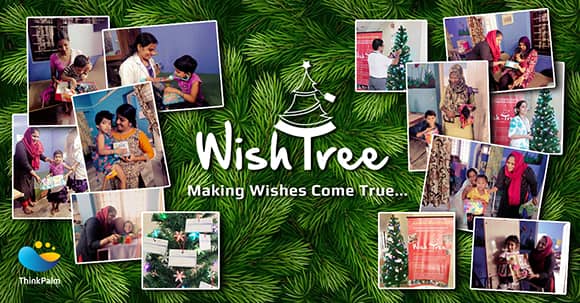 In 2017, WishTree was an internal effort. Employees within our organization sponsored and fulfilled the wishes of 60 children. Whatever little happiness we could bring to their world, was joyous enough for us. Driven by the participation we had before, WishTree was conducted on a much bigger scale in 2018. We included requests and sponsors from outside our office. It was heart-warming to see the response we received. Over one hundred requests were sponsored which was twice the requests fulfilled in the previous year.
The 2018 WishTree was launched by Mr.Manoj Kongot (CEO and Managing Director, ThinkPalm) and Mr.Rejish M Unni (Director of Sales and Marketing, ThinkPalm) on December 6. WishTree continued for a month, during which it collected requests from children of impoverished families. The wholehearted involvement of employees both within and outside the office helped us fulfil almost every request that came our way. The requests ranged from toy cars and simple toys to school bags, cycles and study tables. A big chunk of the contributions were gifts to Alfa Paediatric Rehabilitation Centre, a centre for children with autism and cerebral palsy.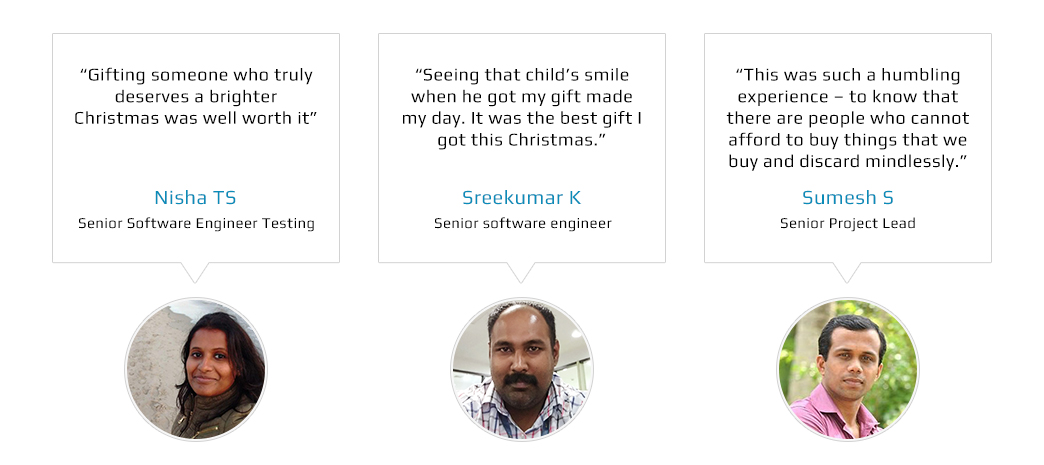 This is but a modest step towards spreading smiles. WishTree will be back next Christmas with a goal to reach more children and kindred spirits. So watch out for WishTree this Christmas as well and help us spread the Christmas cheer!
---