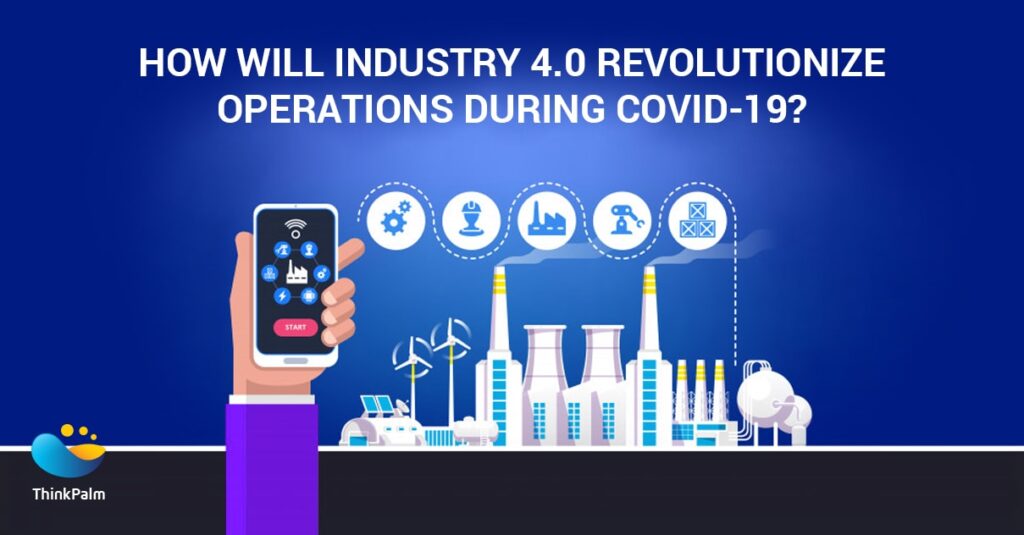 More adaptable industrial operations, higher productivity, and the development of innovative business models are all possible today thanks to digital solutions. But the future of innovations offer even more potential, with cutting-edge technologies that will create new opportunities for industries during the Covid-19 pandemic to fulfill customer requirements and expectations.
With the Covid-19 pandemic halting the traditional global business ecosystem, digitalization across industries are taking shape at a striking pace. This has opened unique opportunities for digital leaders to discover and implement innovative digital strategies to drive digital transformation across the organizational level. Even in parts of the world where COVID-19's initial effects have started to recede, serious dislocations appear likely to remain a fact of life for some time to come, with executives constantly facing new pressure. Yet volatility was becoming a watchword among supply-chain and manufacturing leaders even before the pandemic. As businesses adjust to the next normal, executives are grappling with the longer-term question: How will industries, manufacturing sectors and supply chains operate during and after the COVID-19 pandemic?
More significantly, there are likely to be much more digital innovations introduced in traditional industrial environments, as is already evident in the immediate response to the crisis. Industry leaders are leveraging Industry 4.0 solutions, implementing nerve-centers, or control-tower approaches to increase end-to-end supply-chain transparency, and fast-tracking automation programs as employee shortages and travel restrictions are arising due to COVID-19.
What is Industry 4.0?
The term Industry 4.0 encompasses a new phase in the Industrial Revolution —one that unites advanced manufacturing techniques with IoT, RPA, AI, etc. to create heavily interconnected industries. These industries are not only interconnected, but communicate, analyze, and manage information to drive further intelligent performance in the real world.
With the implementation of physical production and operations along with smart digital technology, such as machine learning, and big data, Industry 4.0 creates a more holistic and better-connected ecosystem for organizations that focus on manufacturing and supply chain management. 
This automation of operations creates a manufacturing system where machines are augmented with connectivity and sensors to monitor and accumulate real-time insights, that support the industry in the entire production process and makes autonomous decisions.
Before the coming of Industry 4.0, three preceding industrial revolutions commenced to developments in the field of manufacturing, mechanization, mass production and automation using technology.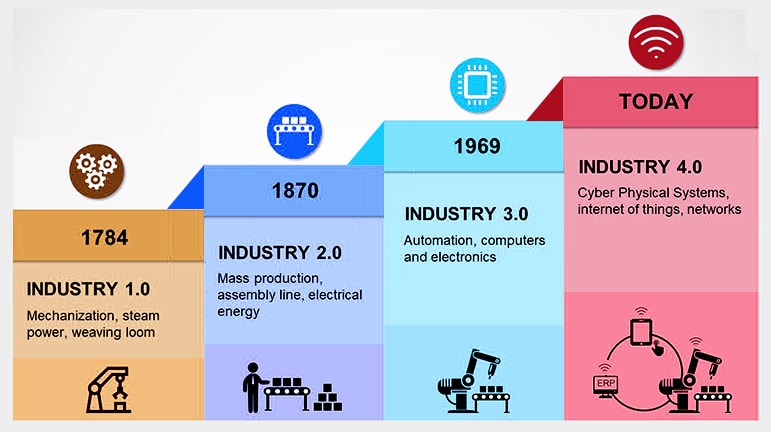 Industry 1.0 began approximately during the 1780s with the introduction of steam power which improved mechanical productions and improved the agriculture sector greatly.
Industry 2.0 is described as the time when mass production was introduced as the fundamental means of production, in general. This implementation of mass production helped introduce railways into the industrial system with the bulk manufacturing of steel. 
During the 20th century, Industry 3.0 arose with the advent of the digital revolution which is more familiar to the current generation when compared to Industry 1.0 and 2.0. Industry 3.0 was and still is a primary result of the huge development in computers, information technology and communications in several countries.
Industry 4.0 is the digital transformation of manufacturing/production and similar industries to create value processes with growing trends towards automation and data exchange in technology. It has brought innovation to many professions and industries with the implementation of technology and automation. Employees have been obligated to acquire new information on how to use hi-tech gadgets and machinery which are becoming an important factor in their working life. 
Characteristics of Industry 4.0 
Industry 4.0 incorporates all the additional automation and virtualization strategies that companies now deploy to improve collaboration and production. To get a more reliable understanding of how this evolution is happening, let's take a look at the distinctive characteristics of industry 4.0.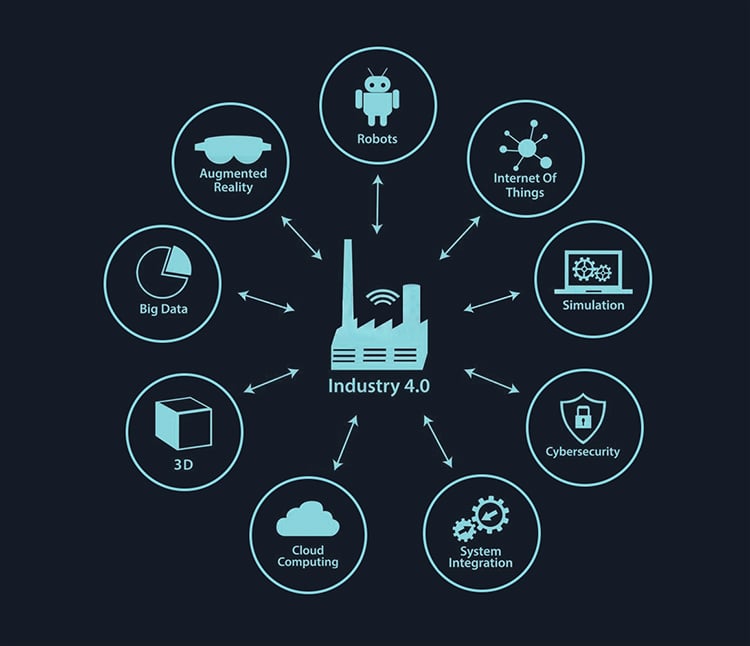 Internet of Things (IoT) 

Big Data and Analytics 

Augmented Reality 

Autonomous Robots 

Cloud Computing
Internet of Things (IoT)
Industry 4.0 is the new phrase for the combination of the present Internet of Things (IoT) technology and the manufacturing industry. Generally, IoT services in industry 4.0 can provide advanced connectivity of systems, services, physical objects and enable object-to-object communication through data sharing. 
Big Data and Analytics 
Under Industry 4.0, big data analytics is beneficial for predictive manufacturing and is an important direction for industrial technology development through the rapid development of the Internet. This leads to huge amounts of information produced and obtained daily where current processing and analysis is unable to cope using traditional methods. Hence, big data has become a hot topic recently in Industry 4.0.
Augmented Reality 
Augmented Reality (AR) has begun to be considered as one of the most promising businesses that technology companies should heavily invest in. This technology can bring huge support for maintenance works in business due to reduced time needed for maintenance works and reduction of potential errors in maintenance works. It can predict with high accuracy and allows the frequency of maintenance to be kept at low numbers by utilizing predictive maintenance to prevent any unplanned reactive maintenance. 
Autonomous Robots 
Current robots have higher flexibility, advanced functions and are easier to operate in multitudes of fields. In the near future, robots will interact with each other and collaborate actively with humans under the guidance of handlers. These robots will be cheaper and more sophisticated in order to achieve better abilities compared to those currently used in the manufacturing field
Cloud Computing 
Cloud computing is a relatively new system logic that provides a huge space of storage for the user. A small amount of money allows enterprises or individuals to access these resources. Over time, the performance of technologies keep on improving, however, the functionality of machine data will continue to be stored into the cloud storage system, allowing production systems to be more data-driven. Company limitations can be minimized since more data sharing will occur across sites for production-related undertakings in the industrial revolution. 
The Benefits Of Industry 4.0 During Covid-19
Companies can deploy digital solutions beyond the four walls of an industry or manufacturing plant. With the implementation of the above-mentioned characteristics in industry 4.0, companies can reach across the end-to-end value chain to address challenges related to disruptions at suppliers or production plants, operational challenges, or health risks during the COVID-19 pandemic.
Planning For Operations
A core element of manufacturing and supply-chain operations—planning—has traditionally been conducted in silos, with demand forecasting, supply planning, production planning, logistics planning, and sales and operations planning (S&OP) all handled by separate teams. Interrupted global trade flows and value chains have forced companies to break the silos to improve end-to-end visibility. As a result, the potential impact of optimized planning is more evident. But it also requires a more sophisticated analytical approach and collaboration across multiple functions and stakeholders.
In contrast, autonomous planning relies on artificial intelligence and machine-learning algorithms, which are supplemented not only by internal data, but also by external datasets from suppliers, customers, weather forecasters, demographic sources, and broader economic indicators. Incorporating these additional variables helps organizations respond with a quantitative vs qualitative approach to the ever-changing dynamics. Advanced analytics can also optimize planning across the entire value chain in a way that wasn't feasible under a siloed approach with traditional analytical tools.
Boosting Employee Safety And Operational Continuity
Digital technologies that enable remote work and collaboration, eliminating the need for noncritical employees to leave their homes, are becoming a necessity. Beyond basic contact- and location-tracing mobile apps and videoconferencing applications, more advanced solutions, such as machine-learning/ artificial intelligence algorithms and wearable technologies, are also helping maintain safe distancing in industries as manufacturing operations restart.
Improving Productivity And Performance Management
In most companies, and especially in SMEs, data collection is manual, using pen and paper or basic spreadsheets. The process is prone to errors and inaccuracies, which are naturally exacerbated during the stress of a crisis. Digital solutions allow manufacturers to automate data collection by adding sensors or directly tapping into machines' programmable logic controllers (PLCs) to collect data and display it on live dashboards.
Supervisors can then monitor factory performance remotely and in real time. They can deploy interventions when needed, conduct effective performance-management meetings, adapt daily plans to meet customer demands, and to improve labor productivity as well as operational efficiency—all remotely.
Increasing Asset Utilization And Efficiency
Wearable technologies, such as augmented-reality glasses, can enhance remote assistance in maintenance, such as when operators need off-site assistance due to limitations on travel. This increases machine availability by reducing maintenance downtime.
Similarly, automated equipment-monitoring and process-control systems can bolster the continuity of operations, even with skeletal crews. These systems can further optimize operating-equipment and process parameters, increasing overall equipment efficiency for reduced cycle times and higher yield, quality, energy, and throughput—an especially attractive prospect for continuous-process industries where process parameters must be constantly monitored and optimized.
Improved Quality in Management
Beyond improving day-to-day operations, digital technologies can go one step further in quality management. For example, machine-vision algorithms and deep learning in object recognition can conduct an automatic quality inspection and quality control using predictive algorithms, relieving constraints in workforce availability while increasing the precision and threshold of quality checks in industries. 
Automated Digital Logistics
A digital logistics-control tower can create live visibility into performance at every stage of outbound logistics, from loading in the warehouse to unloading at the delivery point. Combined with digital fleet management, route optimization, and carrier analytics, these tools can raise uptime for transportation assets while optimizing the operation, management, and allocation of resources. Collectively, these changes can go a long way toward increasing operational resilience in responding to crises.
Warehouse Management and Automation
Warehouses present many opportunities for automation interventions. These include shuttle systems, automated material-storage and retrieval systems, smart shelves, smart picking robots and cobots—and automated and intelligent sorting, picking, and packing systems, along with drones to perform inventory inspection. A digital twin can help design optimal warehouse operations, creating a digital duplicate of a warehouse to understand the results available from different digital technologies. Other Industry 4.0 solutions can assist warehouse workers as well, including augmented-reality tools that make picking multiple orders at one go much easier and more effective, and exoskeletons to reduce injury from repeated heavy-material handling.
Conclusion
Lockdown measures have forced businesses, enterprises and industries to localize some of their productions, change the way they buy and sell goods, virtualize business operations and adapt to remote working which has in turn accelerated digital adoption rates. 
Beyond the immediate crisis, we need to be thinking how these technologies can be used to help us recover more quickly from future pandemics or crises? Given the predicted economic impacts, we have a collective responsibility not to make the situation worse during the recovery. With the implementation of technology and automation, businesses should be looking to innovate operations and eliminate unproductive methodologies wherever possible.
Wondering What Are The Most Effective IoT Trends Businesses Can Adopt To Overcome The COVID-19 Pandemic?
---