The total number of apps in the AppStore and the Play Store keeps on expanding. If there's one thing that is trending and developing into something much bigger, not only just in the tech world but as a whole, is most definitely smartphone and mobile applications. Mobile apps have advanced significantly over the past couple of years and their growth is only increasing.
Back in 1997, the Nokia 6110 introduced a built-in version of the basic arcade game "Snake," which many recognize to be the first mobile app. The first iPod would also come with built-in games, mostly Solitaire and Brick. Since then, developers have come up with new, creative ideas for innovative apps that not only focused on engaging people with gaming and other entertainments but also built apps that helped them get on with their day to day life, for example providing them with apps that they can customize and personalize according to their favor.
In a fast-growing and competitive field, coming up with a new mobile app development idea is far from an easy task. Even if you have the necessary experience and budget, still it's going to be really challenging. But however, new apps are very crucial if you're thinking about creating a startup, launching a business, or even developing an existing one.
Here are the top ten app ideas for 2021.
Mobile apps have changed the technological world throughout and especially in the last few years. It has become an important part of everyone's life. In this top ten list, you can find both an incentive for your own startup or ideas for pet project apps that can help enhance your portfolio.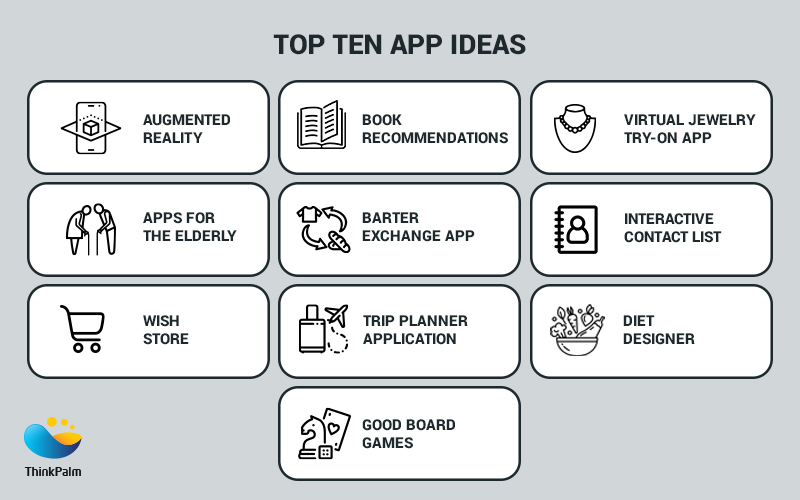 1. App for Virtual Interior Design (Augmented Reality)
One of the latest technologies that are gaining quite recognition and are progressing at a rapid speed today would be augmented reality (AR) and virtual reality (VR). Both these technologies have been taking over the tech world by storm. And when it comes to apps, there are major improvements that are being utilized by these two forms of technologies. These applications are already developed enough to use as a basis for great products created for various areas. For example, you can build an application that allows you to create a proper layout of your room and try furnishing it with numerous interior design elements, such as, change wall colors, experiment with light, furniture items, etc. This would be a great idea that you could come up with if you run a furniture store or company, or design or repair services.
2. Book Recommendations and Reviews
More than half of the books today are available digitally. You can access books from anywhere in the world with just a click and boom, it pops up. Some are paid, and some are available to you for free. Well, if you like reading books, tech guides and tips, then you will absolutely see the genius logic behind this simple app idea. Picture an app with which you could take a photo of a book that intrigues you in a store and then immediately read feedback on it or recommendations or read the complete book online as well. The data can be drawn from Goodreads, Amazon, and other platforms.
3. Virtual Jewelry Try-On app
Ever since the rise of COVID-19, online shopping demands have skyrocketed and people only tend to shop online mostly, rather than stepping out and trying on clothes or other items like jewelry, etc. This is another way of utilizing technology using AR. The user can upload their image into the app and try on jewelry or other items virtually in such a way that it gives them an accurate representation of how they might actually look in it. This is another good idea that you can take into account and build an app accordingly.
4. Apps for the Elderly
Everyone needs care and attention as they grow older. An app idea that makes senior life easier, for example by planning their daily activities, reminding them about their medications, utilities, appointments, etc would most definitely come in handy today as many elderly people would find it quite beneficial since they use smartphones, also their children could monitor them whether the medicine has been taken, send quick alerts if there's some sort of an emergency, etc.
5. Barter Exchange App
One of the earliest practices that will never fully lose its relevance is merchandise exchange. Most of us still own the things that we bought way back but don't use them anymore. So why not exchange that for something you can actually use now? So you can build an app in the sort of a platform designed to expedite exchange processes amid users who want to trade different things like clothes, gadgets, tools, toys, etc. This is a good idea to undertake this year.
6. Interactive Contact List
Social media apps are getting more creative day by day and they're getting more advanced than ever, with major improvements and patches. We should never underestimate the power of a social media app. Nearly everyone has profiles on multiple social networks and various messengers at the same time. Based on this fact, we can formulate interesting and simple data to build a mobile application. That is making an interactive contact list that will include links to each page related to a particular person on different social networks, their messengers, email addresses, etc.
7. Wish Store
Almost all shopping sites have a 'wishlist' or a 'favorite' option where customers or users can add certain items that they like, or are willing to buy or not. You can take this idea into account and formulate an app that allows users to post photos or a description of the goods they need. And then, based on this data, various sellers could offer goods or custom manufacturing services.
8. Trip Planner Application
If you are a travel enthusiast then you know what's coming. Travelers who have had fascinating experiences will be eager to share their stories with other fellow travelers and their friends. This idea of a mobile app is mainly focusing on creating a database featuring travel itineraries, which are explained by the users or travelers themselves. This is a really good idea as it encourages other folks to travel and get more interested in a particular place or location and gain more insight. For example, you can add these filters-
Walk duration– (2-3 hours, 1 day, 2 days, etc.)
Transportation– (by bus, by car, bicycle ride, etc.
Objectives– (romantic evening, birthday party, fancy dinner, etc.)
Budget– (up to $100, $200-300, $500 and above
9. Diet Designer
People are really concerned about their health and they focus on maintaining a proper diet, and that is why you need a perfect diet designer application. This benefits people a lot. Your newly built mobile app may enable users to pick the most favorable diet and organize an optimal diet plan. The users can also order their required diet food packages online and get the nutritionist's guidance.
10. Good Board Games
Last, on the list, we got the board games. Board games are an old and profitable business, but not many can frequently afford to purchase. This issue can be resolved by using a mobile application to assist people who already have a particular board game in their possession to bring together a crowd of several participants who would want to try playing it to have a good time. This would actually be a nice idea to spend time with your loved ones or your friends.
Conclusion
Mobile apps are taking over the tech world by storm and it's only going uphill from here. Although if you have an idea of an app in mind, you need to take many factors into account, such as the budget, the current scenario, will it be sellable? Etc. ThinkPalm can help you with consultancy and Mobile app development.
Here, at ThinkPalm, our developers leverage advanced platforms such as Google's UI toolkit, Flutter, and React Native to build incredibly innovative Android, iOS, or Hybrid mobile applications. Partner with us at ThinkPalm and let us help you in building your next innovative app!

---