Nowadays, mobile applications and digital solutions have become imperative in business efficiency and they are the most searched topics around the globe. Digitalization or digital transformation has taken over many industries and its potential is only increasing every day with the advancement of technology. 
Mobiles and smartphones are completely transforming brand and marketing strategy. Since the first mobile apps were released to users, they required support from mobile advertising. Once 2014 hit, everyone was adopting mobile advertising within apps, since people were consuming more time on social media apps and games than in their browser. People were focusing on apps more than websites as their demand slowly emerged. 
In an efficient business operational scenario, the scope of mobile applications is progressing every day. This supports the user to analyze their workload in a much effective and simpler manner. The modern approach to mobile application development is to improve the workflow quality for iOS as well as Android platforms. The custom B2B applications are the most suitable solutions for multiple platforms in order to coordinate their work as "systems" cannot maintain long-term boundaries with bigger companies and organizations that are administering within their internal system. Also, to meet the user requirements, the companies in this segment resort to custom software development products. Now let's get a deeper insight on what makes B2B apps different from other apps, their benefits, native and hybrid apps, and how they can improve the overall efficiency in a business.  
Without more ado, let's dive into it. 

What Makes B2B apps Different From Normal apps
The app development world is huge. There are apps for pretty much anyone out there to utilize. For example, educational apps, entertainment apps, e-commerce apps, etc. Now we're going to look at how B2B apps are different from other apps, particularly from B2C apps.
The User Base

First off, it is the user base. B2B apps have a more limited user base compared to that of B2C and other apps. B2B apps are built with a specific type of business in mind, whereas when it comes to B2C apps, they are provided to the entire public. Moreover, B2C apps built a user base by launching themselves into the AppStore. After that, they have to depend on advertisements and media marketing campaigns to complete the next step. But for B2B apps it is rather different, as getting a whole business as a user is much more complex than acquiring individual users. 

Different Impacts

They have diverse impact points; B2C and other normal apps are focused on gaining the attention of their users, whereas B2B apps solely focus on problem-solving. B2C apps need to look good and try to keep the users engaged as much as possible. They put a massive emphasis on design. But B2B app users are there to strictly solve a problem, they don't care much about being entertained; thus design and aesthetics only come after functionality and user experience. 

Different Business Models

This is one of the main differences between these types of apps. B2C and other apps mostly come in free for their users and B2B apps are paid, for example, monthly subscriptions, etc. B2B apps rely on licenses, but they additionally contribute paid subscriptions and premium features. 

Number of Users

Generally, B2B users are comparatively lesser than B2C users. This is because as a company with a B2B business model, your focus is on professionals in third-party commercial organizations and thus the potential users of your application are limited. Nevertheless, with B2C apps, customers are targeted more generally and almost anybody can be a user, the condition is the exact opposite.
Benefits of B2B for Business 
Every business is trying to attract new customers. Custom software development services or finding a professional company to work with is the most popular strategy today. Now, let's find out some of the benefits of utilizing B2B for businesses.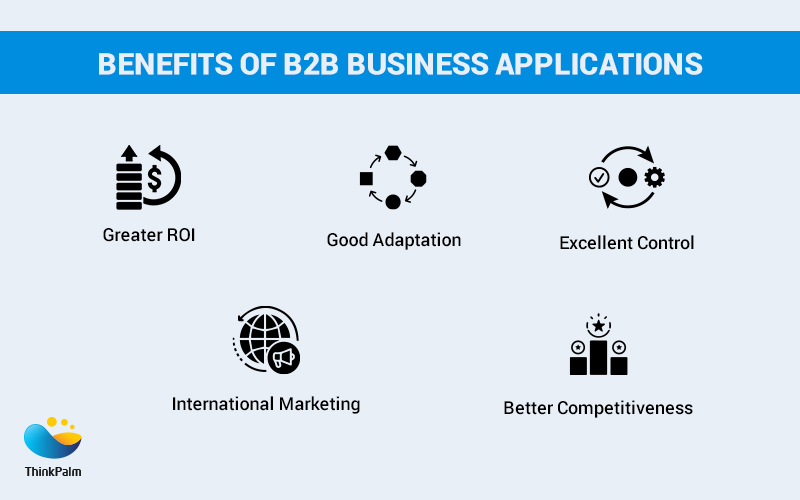 Greater ROI

With new customers, a business can gain a higher range of sales which channels to more income for the business. 

Good Adaptation

Another main benefit of B2B is that it makes it easier for the company or the enterprise to adapt quickly to any change the world or economy has to offer and also to cope up with those changes.

Excellent Control

A better plan can impact so much for the business or the company. B2B helps in the better optimization of spendings and resources. 

International Marketing

If anybody wants information about just anything they could think of, the internet can provide it. It has literally every information about anything. B2B offers the possibility to open your business to other markets and countries and broaden the business range. 

Better Competitiveness

Companies or enterprises who are not using B2B marketing are missing out on more chances to develop. It means that they did not quite get hold of the main thing in business, which is- marketing strategy. So, if your company is utilizing B2B marketing they are quite far ahead when compared to other companies that haven't got hold of it.

Native and Hybrid Custom B2B Mobile Apps: Which One  Should a Business Choose
The debate between Native App vs Hybrid App is still at large- having no clear winner as they provide their own benefits. Let's take a deeper look at these types of B2B custom apps- 
First, let's focus on Native B2B Custom Apps first-
A Native App is a software application developed in a particular programming language, for a specific device or operating system, it can be either iOS or Android. Native iOS apps are written in Swift or Objective C and native Android apps are written in Java. A few examples of the apps are Lyft, Twitter, WhatsApp, etc. 
How are they Developed?
Other than web apps that are written originally in Javascript, native apps are the type of applications built using an operating system's SDK's and can also interact with the device features. 
To take an example, Objective-C or Swift is utilized to write native iOS apps, Java is applied to write native Android apps, and C# for the majority part for Windows Phone apps. 
Benefits of Native Apps
Quick and Responsive– Native apps allow the quickest, most responsive, and most reliable experience to users. In the favour of web apps, this is highly unlikely to change.
Much Easier to Tap into Wider Device Functionality– Another benefit is that these types of applications make tapping into the camera, compass, microphone, and swiping toward the camera super easy. 
Unite app UI/UX to Platform Conventions– Native apps helps to please your users due to the way that you can balance each app's UI/UX to the platform conventions. 
An honorable mention- React Native is an open-source project, launched by Facebook in 2015 which lets you build real, native iOS and Android apps with one codebase. With this, you can develop a real native mobile app that's imperceptible from an app built using Java or Objective-C. 
Now moving on to Hybrid B2B custom Apps?
Here, you install it like a native app, but it's really a web app on the inside.  Hybrid apps are kind of like web apps, which are constructed with HTML, Javascript, and CSS. They operate in something called webview, which is a simplified browser within your app. Some examples are Sworkit, Giro D'Italia, Offcourse Golf, etc. 
Why Hybrid App?
Let's say you have an idea for an app, but you don't know whether people will actually like it or not. Imagine you're short on resources and you need to create a simple version of your product that still provides value. Well, hybrid apps allow you to test whether people will download and use an app on their device. 
Advantages of Hybrid Apps
Single Code Base to Manage

Rather than building two apps, you're constructing one app and simply tweaking it a bit so that it works on both platforms. With the help of a Hybrid App, you only got one codebase to maintain. 

Time and Money Saver

You would only want half the number of developers that two native app development would have required, as you only have to manage one codebase. Hybrid app developers are usually less expensive than native app developers.

Much Easier to Scale

Hybrid apps are easier to scale, especially to other platforms. Once you've built a platform, you can launch on another platform as well. 

Access to Device Features

These apps let you retain the same ability to access device features. 
So, there are many directions in which you can take your app and all of which have their pros and cons. There could be some limitations that will pressure you to make a certain decision. Both Native B2B apps and Hybrid B2B apps have their own advantages as well as their drawbacks. Although one fact is clear that the commercial success of smartphones and tablets isn't showing any signs of slowing down, and it is expected to go full speed from here on. 
How can B2B Mobile Applications Improve Operational Efficiency for your Business?
There are various benefits of having a B2B mobile app. Let's take a look at how B2B mobile apps improve operational efficiency for businesses- 
Significant Control and Availability

B2B mobile apps help maintain the quality of the operations and also assist in the collaboration with the team. Through an app, they can be present at two locations at one time. 

Live Cooperation within the Company

B2B apps being cloud-based, these apps enable live updates by each team member. Therefore making it simpler to operationalize tasks remotely. It also allows more flexibility to log on from other devices and to synchronize more information with every team member.

Much Decreased Workflow and Environment Friendly

Mobile apps are environment-friendly as they reduce the paperwork required in business operations. That is, distributing information across digital documents, and other folders of the company or an enterprise. It becomes more easier and convenient as they reduce the time and effort needed in a workflow. 

Better Business Growth through App Analytics and User Engagement

This is one of the crucial benefits of using a B2B app. It helps companies to produce valuable information and to analyze the data, which later on helps entrepreneurs gather relevant insights for their business. 

Feature-wise Usage

Another interesting fact about B2B apps is that they have several features that enable enterprises to have a detailed view of their product usage up to the level of each feature that is being used. 

In-app Customer Feedback

Companies can trace the user behavior that enables them to know how smooth their operations are. There are many insights that they can gather from the user's viewpoint to improve the performance of their product. 

Conclusion
Mobile applications are taking over the tech world by storm and there are many advanced techniques and apps that are on the rise. Mobile apps are not just altering the operational elements in a business, they also have the potential to obstruct the traditional corporate culture. And today, companies and enterprises are taking hold of the latest mobile technologies, mobile application development services and getting their hands on the latest B2B application trends.
Here at ThinkPalm, our developers leverage state-of-the-art platforms such as Google's UI toolkit, Flutter, and React Native to construct incredibly innovative Android, iOS, or Hybrid mobile applications.
Come partner with us here at ThinkPalm to build innovative apps and welcome to the new era of the mobile application. 
---