In this prolific work environment, companies are driven by resilience and innovation, which keeps them up to speed amidst a post-pandemic scenario. Ever since the emergence of COVID-19, there has been a huge acceleration in digital transformation, and to support this acceleration, cloud-native application development and cloud adoption have played a significant role. Companies are adopting cloud technologies as it helps them connect people, processes, and data to clutch the opportunities encouraged by modern technologies. Some of the examples of the earliest companies that went ahead and adopted cloud technology are Amazon, Facebook, and Google. However, at present, companies are looking forward to adopting a hybrid model of cloud technology to achieve total flexibility while deploying their application. By designing applications in cloud-native infrastructure, organizations can react to the market demand more quickly, helps in reducing costs, and are highly scalable. Now, let us move on and learn more about cloud-native application testing and what all advantages it provides for businesses. 

What is Cloud-Native Application Testing?
The pandemic has disrupted the flow of businesses and operations of companies, but the implementation of cloud technology has ensured business continuity for many organizations. 
Cloud-native applications are hosted and managed by the cloud. They are applications that are deployed and developed using cloud-based technologies. Cloud-native application testing is a method to amplify creating new applications and optimizing existing ones. The main advantage of cloud-native application testing is that it speeds up the process of deployment and development.
Although an organization is in need of a medium for building and managing its services- this platform is termed a cloud-native application platform. They are divided into two- structured platforms and unstructured platforms. 
Also Read– How Can The Internet of Things (IoT) Impact Office Technology And The Day-to-Day Lives Of Employees?
Why is Cloud-Native Application Testing Important for your Business?
The cloud-native application testing provides efficient development and automated management experience across hybrid, public and private clouds. There are many advantages to being cloud-native. Listed below are some of the key benefits regarding the same-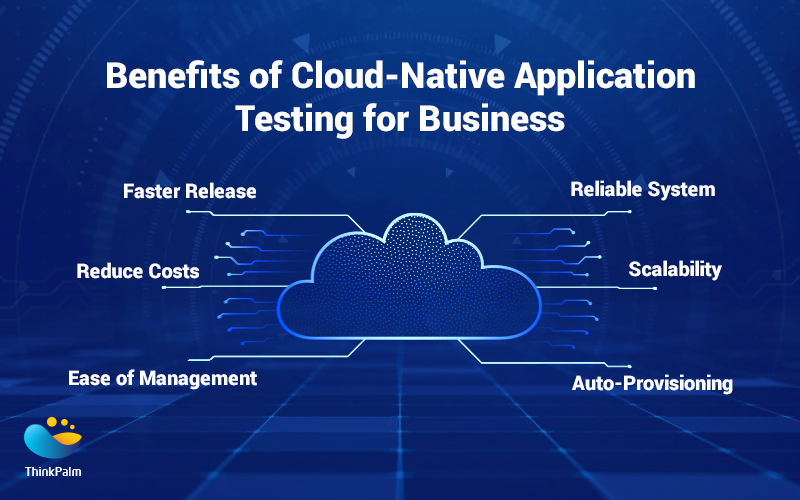 Today, the key point of success in an organization is the efficiency in its work and its speed of service. An organization is more likely to succeed if it can conceive, build, and ship value to customers faster.  The constant deployment pipeline in a DevOps SDLC can be augmented with the use of the cloud's speed, scalability, flexibility, and stability to enable quality clearances as and when required. 
Many companies are adopting cloud-native application testing because it helps in the reduction of costs. Since cloud-native application testing utilizes containers, along with the many cloud-based tools are totally benefiting from containerization. There are other powerful cloud-native testing tools alongside Kubernetes, so, the infrastructure and tooling are pretty much standardized. Hence, cloud-native application testing helps in the deduction of costs. 
This is another great benefit of cloud-native application testing, as it helps to make infrastructure management effortless. Businesses need not worry about factors like allocating storage, configuring networking, or provisioning cloud instances since serverless platforms like AWS Lambda and Azure functions are implemented. 

In cloud-native applications, the utilization of microservices and Kubernetes helps to build applications that are self-healing built-in, and fault-tolerant. One of the main advantages of this is that we can easily isolate its impact whenever a failure occurs. Hence, it does not take down or affect the entire application as it treads carefully. 
Another great benefit of cloud-native application testing is its scalability. One of the main features of cloud-native application testing is its ability to auto-scale, where it only costs for the resources that will be in use. Applications that are used for testing will scale automatically to manage future requirements by default. Organizations are implementing this type of testing in the long run since cloud-native application testing is quite scalable in the long run. 
Also Read –What Is A Digital Twin? How Is It Useful In The Retail Industry?
Another great benefit of cloud-native application testing is that it supports auto-provisioning. When the apps are in need of some resources, they will automatically go for self-service and programmatic provisioning. This enables applications to run smoothly, and that too without any requirement of manual intervention. Cloud-native application platform furnishes renewed runtime surroundings for operating the applications securely and at scale. 
Conclusion 
Today, organizations are trying to implement the latest software platforms to keep up with the new technological advancements to render their clients their best services such as test automation services and AI services, and to stay one step ahead of their competitors. At present, the tech world is filled with cloud-native applications. Enterprises and companies are moving to the cloud as fast as possible, considering the vast benefits it provides. Cloud technology presents organizations with the ability to be agile and scale at demand. 
Also Read– What is Wi-Fi HaLow and Why Is It a Good Fit For IoT Connectivity In The Future?
How ThinkPalm Helps
At ThinkPalm, we follow an agile process of combining innovative methodologies with AI technology, guaranteeing close alignment with your company objective. Embark on a journey of symbiotic evolution of intelligence, and let us help you fulfill your AI aspirations. Join hands to learn and adapt to the latest AI trends. With our hands-on experience and advanced technology skills in handling AI projects and your novel designs combined, we can reach greater heights. Collaborate with us and let's achieve our goals together.

---