The puzzles can be absolute stress busters and is a walk down memory lane for most of us. Be it a means to while away time or hone your logical reasoning skills, nothing beats jigsaws. Game for a free jigsaw puzzle? Look no further! ThinkPalm's Tackle the Photo Jumble provides a splendid slider puzzle solving experience for picture puzzle lovers of all ages. Open the screen to a jumbled picture, place the right piece at the right place and uncover the hidden image. Challenge yourself by solving the picture puzzle in minimal time and moves, both of which are displayed on the screen.

Categories in the Jigsaw Puzzle:
Standard – ­ Choose from multiple themes including Plants, Animals and more and advance up to nine levels in this category. You are provided the statistics at every level to better yourself as you progress.
Gallery – ­ Not fond of default themes? Pick images from your phone gallery to make it even more interesting!
Camera – ­ Something attractive right in front of you? Click it, split into a puzzle and solve then and there.
Random – ­ Expect the unexpected in this category. The app picks an image randomly for you to crack.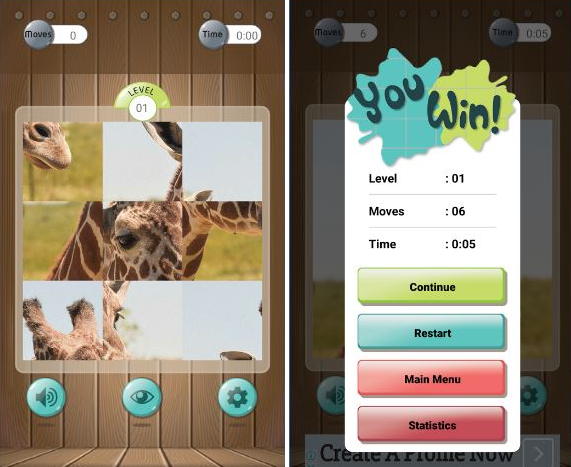 The free slider puzzle game, available in Google Play and App Store, contains Beginner, Intermediate, Advanced, Expert and Master levels for Gallery, Camera and Random modes. So set your difficulty level and keep raising the bar till you become a pro at the jigsaw puzzle game!
---