People dream to work in a company like Google. They say Google has everything that an employee would expect. Bicycles, electric cars, gaming centers, organic gardens, eco-friendly furnishings, free food, on-site physicians,  medical services and health care coverage to keep its employees happy and healthy.
But is that it? Are knockout perks the only reason why a company becomes employee favorite?
Ever wondered why Google makes people sit at long tables, where they're likelier to be next to or across from someone they don't know, and it puts those tables a little too close together so you might hit someone when you push your chair back and thus meet someone new. This strengthens their personal relationship. Great working environments are built through day-to-day relationships that employees experience and not a list of programs and benefits. 
ThinkPalm has done it again. It is a Great Place to Work certified company for the 2nd time in a row. However, this year it meant a bit more.  
Being ranked 39th Great Place to Work company in India among all industries and in the top 50 among IT & IT-BPM companies, the organisation has proved that it provides more than just an ordinary work environment.This title was earned based on a detailed assessment of the quality of employee experience and people practices by means of a globally validated survey conducted by Great Place To Work Institute.
We have Mr. Manoj K.P, the captain of the ship with us to talk about the extra edge ThinkPalm gained over other companies to become one of the best workplaces in India. 
What are the key foundation pillars of the culture at ThinkPalm?
The work environment at ThinkPalm is very different and vibrant. The emotional bonding between employees and management are such that it positively impacts their motivation, drive and performance. Freedom of thoughts, opinions have helped employees contribute much to this achievement. 

A democratic leadership approach has helped us to create an empowered team, a dynamic and energetic group of innovative and creative minds.
Hiring culture fit people is one among our top priorities and we are very particular about it. It is like a glue that holds an organization together. People spend a third of their lifetime at work and it becomes very important especially with youngsters who don't see a lot of difference between their work and personal lives in terms of how they live out their values. Employees stay longer when their values align with that of the core values and collective behaviors of organization. Sharing the similar culture will help both the sides to have a common goal. For this reason, we have defined a set of guidelines and policies that describe the organization's culture, its values, goals, and practices and we make sure that our recruiting process has the capability to help us understand our members.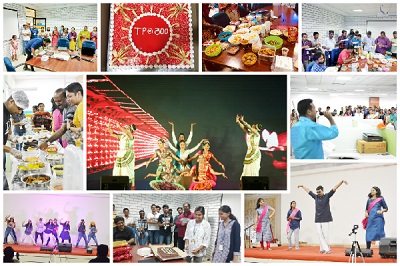 Celebrations are an indispensable part of ThinkPalm culture. Be it the smallest achievement or event, we make sure we shout it loud to the world and celebrate like a Family. We believe in acknowledging every personal achievement because it reinforces the meaning of one's hard work and contribution to team's & organization's goals. When you show your respect to one's achievement and contributions, you are most likely to boost his or her self-esteem, which is the highest need of a person when it comes to his/her work. Traditions are important in ThinkPalm just as they are in families. From Ramzan, Onam to Christmas, from Women's day to World Environment Day we leave no stone unturned to celebrate these events as a family. These practices have helped us to remain happy and motivated. We as an organization also recognize the need for sharing and giving it back to the society.  Through our inhouse charity initiative "ThinkLife", we reach out to the needy through several group activities and campaigns.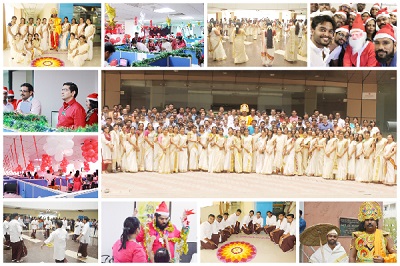 What have been some of the business benefits experienced by the organization as an outcome of creating a great workplace?
Culture of ThinkPalm is reflected in every individual working at Thinkpalm. During a project, many a times, client interacts directly with our employees. During their conversations, client happens to see the confidence, positive vibe and innovations flowing from our people which gives them the confidence to engage and work with us on a long term basis.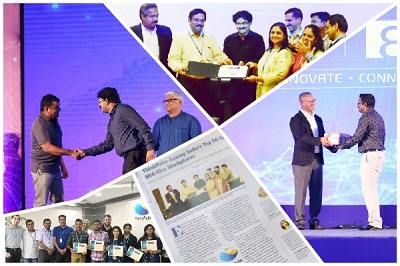 Building customer trust and improved toplines. The happiness and satisfaction of the employees has helped us to win the trust and confidence of our customers and thereby improve our business overall.
An award or certification from a renowned institution like Great Place To Work, certainly amplifies our reputation as an organization and helps to strengthen our customers' confidence in our people and practices.The reliability and trust index surely gets boosted with a certification of this stature.
Boosted our Brand value. This achievement has helped us gain an upper hand among our competitors. Our brand is now more recognized by our clients and prospective customers in the verticals we operate, and has given us an increased global visibility. The recognition has also helped us to attract and retain talented resources.  In short, this achievement has helped us set a new benchmark in the industry verticals, we focus.
What were the biggest roadblocks that you faced on your journey of creating a great workplace and what were the key success factors in turning those around?
Bringing a new dimension for motivating people every time. Understanding employees' needs and working towards meeting them was not learnt and done in one day. It took us time, effort, planning and most importantly we had to face and overcome challenges while implementing/executing them. Policies and programs were thoroughly planned, framed and rolled out step by step as it was important to focus on small things,to bring out that big change. We collected feedback from employees at different levels on a continuous basis and modified our practices & policies to make it to reach the current level. We are still on our way in exploring what better can be done to improve the employee motivation and keep them engaged effectively.
Organization is like a pyramid. It is not always necessary that the top management comes to know about the concerns and opinion of the employees as these concerns are filtered to some extent by the time it reaches the upper management. We implemented practices like – governing council,  where random people were selected to talk before the management about their concerns. Employee 1-O-1,  where employees interact with their immediate managers, senior level managers as well as with HR team and give feedback on their work environment and benefit programs. This helped us to understand more about their thoughts, needs and necessities and address them appropriately, at the right time.
Understanding employee expectations and addressing them in a timely manner is always challenging. It becomes even more difficult when the market competition and demands are high. Providing job satisfaction, challenging work, career growth, rewards & recognition were a few among a lot of aspects we addressed to satisfy and retain our employees.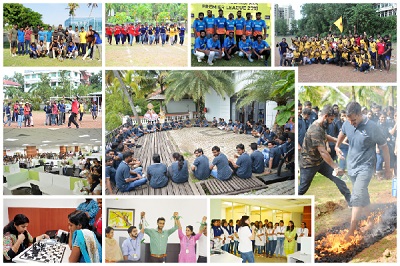 In knowledge based industry, a company's success entirely depends on the potential of its workforce. It is always a huge challenge to acquire the right workforce/talented people, especially when you are in the initial/setting up phase. With proper messaging, right approach in hiring campaigns, rebranding and by making ourselves visible in right forums, we managed to overcome this difficulty and build up the organization with the best talents available.
Any advice to organizations starting the journey to create a great workplace.
Thinkpalm is an employee centric organization. We put the happiness and satisfaction of our employees first.  Almost all of our HR practices were built to ensure that our workplace is like a 2nd home for the employees, as one big family, which ensured a sense of togetherness and bonding across all levels.  This approach helped us to motivate and retain our employees.
From an HR perspective how has this recognition added value to your organization?
A great workplace is surely an enabler to attract talents, even from other regions.  The GPTW branding as well as the experience shared by our employees in various forums had a significant positive impact on attracting better talents.
Our employees feel that they are a part of an organization, duly recognized by a global entity  like "Great Place to Work® Institute.",  with their participation.  The credibility of such a recognition is lot more when compared to an in house workplace audit/survey.
---