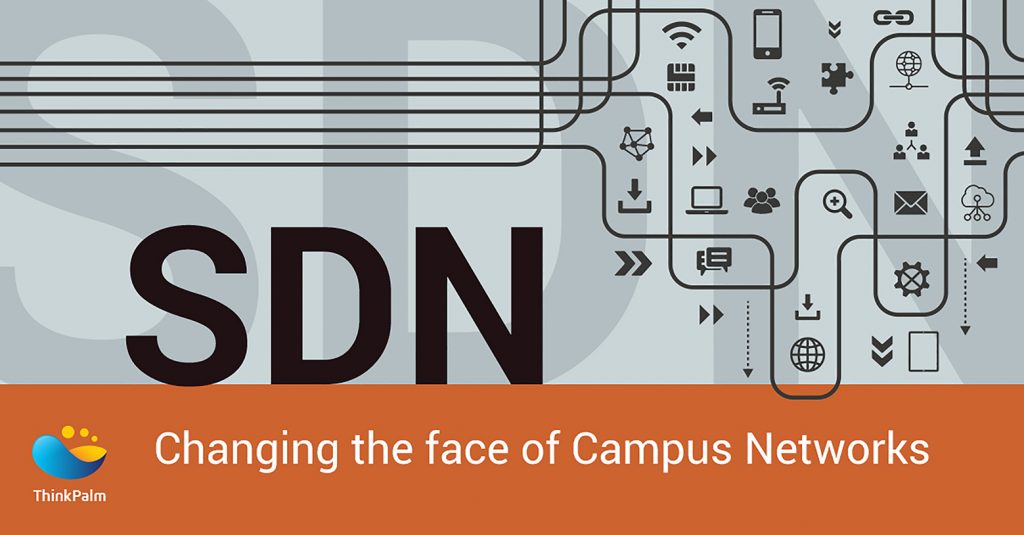 Software Defined Networking is a seismic technology for network design approach beyond just a technology protocol. SDN can centralize the control of the whole networks used in significant IT industries such as Datacenters, Cloud Computing, Mobile Networks, Campus/Enterprise networks. The impact of cloud computing, together with the revolutionary changes and tremendous business value realized through SDN, has resulted in the fast-paced adoption of the technology.  
Why is there a great demand for SDN?
Let's think about traditional IT portfolio where everything needs a manual administration. We have routers, switches and lots of stuff around, all physical hardware connected in a certain way for data flow based on needs. The two salient facts of networks are delivering data and managing the flow of data. Networking decisions have been left in the hands of physical devices which run on a network. So the administration becomes more complex and we are in need of more manual intervention.

Here SDN comes into play. In simple terms, software-defined network splits control plane and data plane from the network and centralizes control plane using a controller. SDN controller gives the flexibility to configure, manage and troubleshoot a network and network devices using automated programs.
Fundamental Changes in Networking Needs
An enterprise network is the internal network of an Institution/Campus. All routers and servers are managed by the enterprise itself. Those days of defined time, device and place have changed to any time, any device, anywhere. Users can use the network of any type from the traditional wired network, Wi-Fi network to 3G/LTE via remote access over VPN.
Growing Trends of Networking in Campus Network
Decades ago, short-haul communication between mainframe was a prominent feature in data networking. Succeeding that, networking was dominated by TCP/IP over the internet and over VLANs. The present era in data networking started with the centralized control plane of private and public networks.

Campus network describes interconnected LANs with interconnected nodes. In a campus network, traditional network devices have been managed via both the Network Management System (NMS) and Element Management System (EMS). Those management systems provide Provisioning, Configuration, and  Monitoring Fault Management.

Policy-Driven networking is essential in campus/enterprise network, which requires plenty of configurations around the policy. The policies include Usage policies, Access define policy, Security policy, Virtual Local Area Network (VLAN) isolation and Quality of Service (QOS) policies. This consumes a significant amount of time and resources which results in a static network and moreover, it is difficult to update evolving business requirements and to deploy new applications.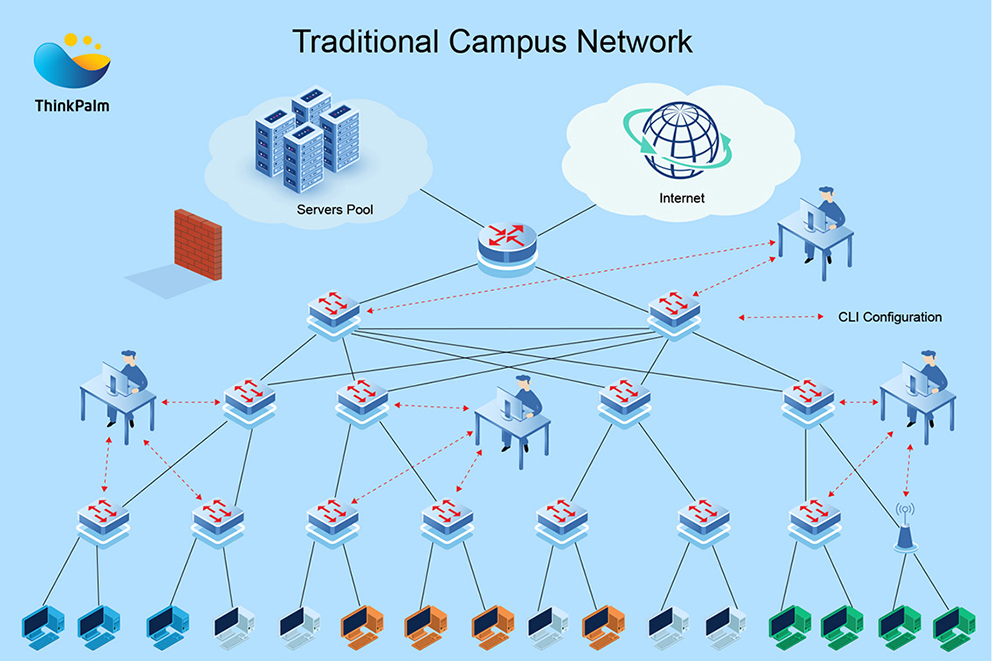 Quintessence play of SDN
In contrast to traditional networks, SDN enabled networks to support dynamic resource allocation to meet the real-time requirements. Custom SDN applications are running on the OpenFlow controller, which will use input from physical network statistics, user activity, QOS requirements, security threat analysis, access control rules, and prioritize the network traffic in a fully dynamic manner using programmed SDN controller. All these analyzed statistics will be used by the SDN controller to make decisions on how to respond best and where to push the changes in the network.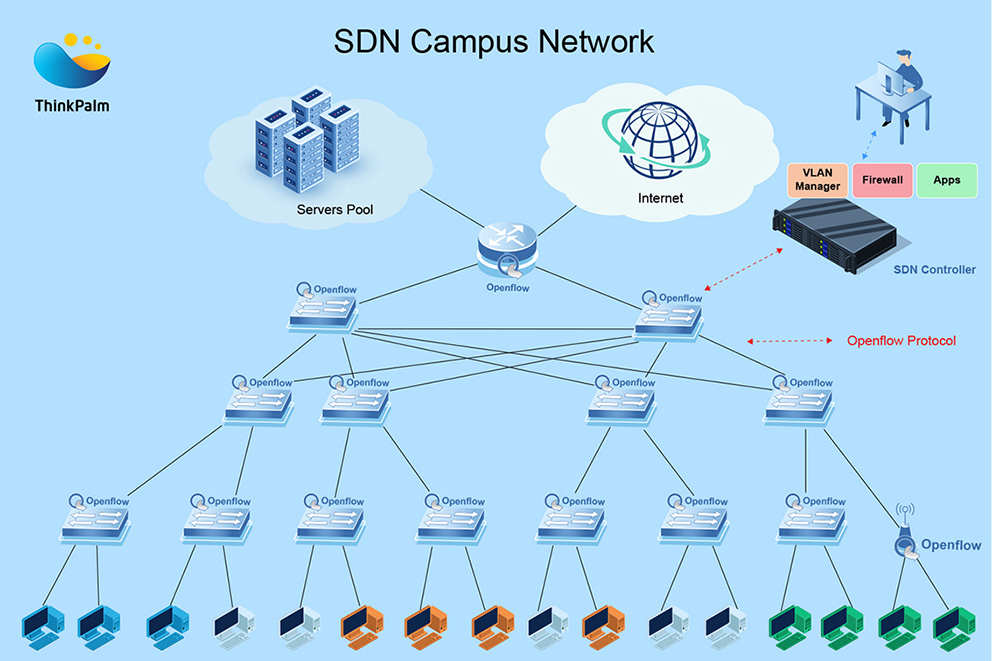 In Campus, network policies are mapped to OpenFlow to bring about the proper behavior of the network. OpenFlow is  the protocol designed to negotiate communication between the controller and the network devices. Before the negotiation, connected network devices must support the OpenFlow protocol (OpenFlow protocol operating in the southbound interface). Open Flow is a standard communication protocol which is defined by Open Networking Foundation (ONF).
Through SDN controller, we can create a policy to examine and regulate the network. Programmability allows us to automate controller using defined policies typically via the application. Those applications are generally available in Northbound API Interfaces, which is used to communicate from the application layer to the network layer. For example, HPE network optimizer is used to automate quality of service (QOS) policies in SDN and OpenFlow campus environments.
Next factor about network management with SDN in campus network is visibility and analytics of an SDN network apart from fault detection and configuration changes, where we can monitor traffic patterns and bandwidths. More vendors and traffic monitoring companies are gaining through incorporating SDN and OpenFlow into their solutions like IXIA, Cisco, Brocade, Gigamon, VSS, etc.
Security Concerns in SDN
High availability of the controller is paramount to maintain business continuity. Access restriction of the SDN controller can improve security.
Ensuring security of communication between SDN controller and nodes (network device), specifically, the security of communication over SSL, is used in most cases to prevent malicious attacks.
SDN security requires to focus on the control plane, s hence protecting the controller from Distributed Denial of Service (DDOS) is also a foremost factor since then SDN controller letting down is reduced.
The three imperative factors in SDN security are
Safeguarding the data confidentiality

Protecting the system integrity

Ensuring the network services availability
Benefits of SDN
Programmability brings flexibility and agility

Automation provides scalability

The abstraction of infrastructure brings security

Centralization and Virtualization economy
SDN in Future Networking
Software Defined Networking is cost-effective, adaptable and much suited for high bandwidth infrastructure and dynamic applications. SDN Platform are now available on both commercial and open source standards.
Since 2015, Software Defined Networking  has continued to evolve expeditiously and redefining the networking areas (i.e. campus networks, data centers, cloud computing, etc.) Campus networks face many diverse and challenging requirements, including technology integration, provisioning and security policy enforcement. SDN/OpenFlow is particularly well suited to bring order the chaos of campus networking, which typically includes layered switch fabrics, virtualized compute nodes, wired and wireless connectivity and complex regulatory environments. As SDN evolves, the campus will benefit from a highly programmable, intelligent and abstracted network architecture that will also be able to address future challenges.
According to the Recent survey of International Data Corporation (IDC), the software defined networking will gain a compound annual growth rate (CAGR) of 53.9% and SDN market could be valued at nearly around US$12.5 billion by 2020. Currently 58% of survey respondents reported that they have SDN projects planned, developed or deployed. So SDN growth indicates the long-term value migration from hardware to software in the networking industry.
---