An auditor's job is no piece of cake! The long hours expended in collecting and reviewing the deluge of data generated every year, managing multiple compliance audits and preparing extensive reports and recommendations can be painstaking, particularly if paper-based and manual. ThinkPalm, with its mobile audit management software Q-Aud, strives to make life simpler for auditors by helping them execute internal and standard audits across myriad verticals in less than 40% of the usual time!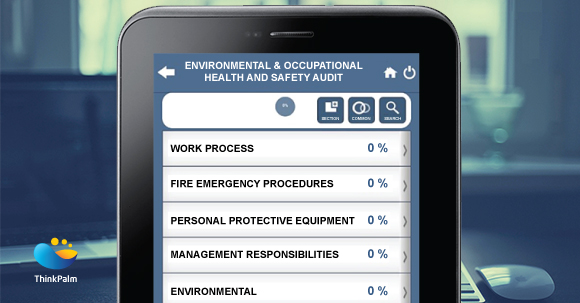 The enterprise audit software is inclusive of an iOS/Android mobile application, laptop based docking application and web based administrator application. The tablet based application with audit checklists configured in a user friendly interface helps you conduct audits in offline or online modes and capture multimedia evidence in picture, free hand, voice and video formats. The data captured in the tablet can be downloaded into the desktop/laptop of the auditor through a docking application. The app enables the generation of audit reports and provides a summary of the defects identified, facilitates the transfer of evidences with considerable size, backs up data and acts as a means to upload the audit data into the web database.
The web based application is the admin module on the cloud for creating and managing various audit sections, questions and users and assigning the severity of risk involved to each question. A key feature is the availability of trend reports citing histories of non-compliance, accidents and more. The reports hosted on the cloud preferred by the consumer, can be accessed anytime, anywhere by the registered users!
The mobile auditing software mitigates the hassles of maintaining copious documents, saves time in capturing and attaching evidences, generates intuitive reports at the click of a button, realizes dynamic configuration of checklists and makes audit data analytics a reality. Q-Aud comes handy in myriad industries – maritime, pharma, manufacturing, oil and gas, you name it! And here's the best part – the reports, checklists and questionnaires can be customized as per your industry and company specific needs and can even be integrated with the legacy system at your end without any trouble.
So make sure you give Q-Aud a try and write to us about your experience with the product. Also take a look at our parallel offerings here – they might be just right for you!
---