Does an organization's might depend solely on its technical competence? Or is there something beyond the four walls and professional relationships that add value to it?  A little zing, a little colour, a little emotion, a little change can go a long way in uplifting an employee's morale and making him feel integral to the company.
It was a bleak Saturday morning which involved more work for working women like me than normal week days where I could get away with simple meals and an untidy kitchen. I was in the midst of the long list of errands to run which had been postponed to be completed over the weekend when my phone rang incessantly. I cursed under my breath assuming it was one of those relentless credit card sellers who don't leave you alone even over a weekend. But, it turned out to be my test lead which surprised me because he rarely called unless there was something very important.
I suddenly remembered that my other team mate was scheduled to reach the USA that morning for his onsite tenure and this had to be a call regarding the same. A nagging tinge of worry overcame me since I was expecting a call from the person who had travelled rather than his test lead. I called back the TL since I had already missed his call due to my train of thoughts. What he told me confirmed my fears. D(name withheld) had reached the US, but had still not reached home. It had been more than 6 hours since his scheduled arrival at the US and he had even messaged the onsite engineer who was already staying there that he had landed. What was more intriguing was there were no cab booking records in our common uber account.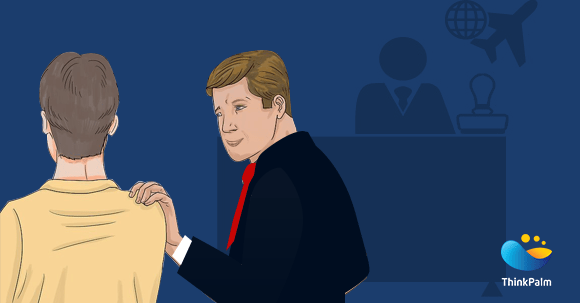 A cacophony of thoughts whirred in our minds though neither of us voiced it. The onsite engineers tried all that they could to find his whereabouts but in vain. We frantically called the handful of decision making people of the organization, but deep in our hearts, we all knew that all we could do was wait to hear from him.
He was not known to go absconding – he was a reliable, sincere engineer who always reported his whereabouts. So, the only place he could be was at one of the airport departments, which was out of our reach. While the onsite team strived to trace D untiringly, all we could do from India was wait with our fingers crossed. By evening, the panic had reached all the directors. The chairman was already making a trip from Chicago to SFO to take stock of the situation.
It was a very long and painful wait through the day and a sleepless night until wee hours in the morning when we heard from the onsite team who, after having reached the airport and making multiple enquiries had finally managed to obtain information that D had to return due to certain unforeseen irregularities. It came as a shock wave, but, what touched me was the fact that the directors and onsite engineers had kept awake all night trying to get in touch with the airlines, relentlessly, passing information between each other. We noted the flight that D was put on and finally went to sleep relieved to have at least received reliable information about his whereabouts.
The office was buzzing with news of D the next morning, but soon, things returned to pretended normalcy since we all were still anxious to know about the events that ensued in US. I learnt from the CTO that all the three directors were going to pick him up from the airport, considering the trauma that he might have undergone at the US airport proceedings! It is true that D did go through a challenging 24 hours both mentally and physically. There was nothing that could be done to revert that, but I could see that the directors truly were going out of their way to ease his misery. What was commendable was that, inspite of the fact that the directors had to be a part of an important customer visit the next morning (one of them even had to make another trip to the airport to pick up the customer late that night and ensure she was safely checked into the hotel), they promptly arrived at the airport to receive D at 3:00 in the morning without a wink of sleep that night. They took the time to talk to D and his parents, to relax them and see them off to their home town before returning to their hectic schedules. The team of directors were more concerned about the wellbeing of their engineer than our billing opportunity. And how can I not mention the unflinching efforts of our onsite team to find their comrade, keeping their spirits high even in jeopardy! How many organizations can boast of such an attitude?
I thanked our Director when he informed me over GBwhatsapp that they had all met D and that he was better and he said, "You can sleep well tonight". I replied back, "You too…it must've been worse for you all". To which he said – "Part of life. I like challenges" and a minute later, "But not on a daily basis though!", his humour intact! 😊
Many lessons were learnt with regard to the latest tech, communication and travel policies, but what stood out was the sincerity, kindness and empathy displayed by the directors in all their conversations and actions throughout the incident. I am not sure how many employees appreciate or even recognize these in an organization but these intangible values, in my humble opinion, are much more valuable than materialistic benefits which people normally expect from an employer. Sorry if I sound too preachy…but I talk out of experience!