Over the past few years, over-the-top (OTT) media has become a game changer in the media market, using artificial intelligence and machine learning at the forefront.
It allowed viewers to access streaming data anywhere, anytime.
It bypassed cable, broadcast, and satellite TV platforms, allowing more cost-effective marketing directed toward hyper-targeted audiences.
Another interesting fact here is that OTT platforms helped us survive the pandemic when we only had limited outdoor entertainment options and mandated social distancing. 
To date, OTT platforms like Netflix, Hotstar, and Amazon Prime consistently keep their viewers engaged by providing what their viewers want to see.
A CII-BCG report estimates that the number of paid OTT subscriptions grew to around 100 -125 million in 2020, an increase of nearly 55-60% from the 49 million subscriptions in 2018, which marks the rapid growth of the OTT industry.
What's Ahead
In this blog, we will cover and discuss major topics, including:
How AI & machine learning are transforming OTT content production
How you can use AI-powered personalization as a retention tool for your ott services
The success story behind the OTT king Netflix and the way they use AI & ML
Check out the rest of this article for more interesting information!
A Look at How Artificial Intelligence & Machine Learning are Transforming Content Production
Don't we all like great movie trailers?
We've had movie trailers almost since the birth of cinema!
Trailers (and commercials) are actually promotional videos for upcoming feature films made to create excitement and interest in viewers.
Today, Artificial intelligence has become a major driver in redefining how content is created. 
We can achieve unprecedented levels of personalization by combining human intelligence with the power of Artificial Intelligence and Machine Learning.

As a result, effective personalization in media and other industries will help to get deeper engagement, better recall, and higher ticket returns. 
Today's AI/ML platforms can perceive, learn and adapt better. Automating parts of content creation can now reduce the time and effort required to create content. 
Here adopting data-driven strategies and developing new videos in real-time from content libraries are also helping transform OTT content creation.
AI-Powered Personalization as a Retention Tool For Your OTT Services
Today OTT platforms can easily understand what their viewers are looking for. With this valuable knowledge, they create content based on their preferences. 
We are now witnessing an OTT revolution. It has already taken off. 
Have you ever wondered how it all works? The answer lies in AI-powered personalization.
Here the customer data & insights are utilized with the power of artificial intelligence. 
The AI ​​engine learns from past customer data and trains itself to predict behavior. It delivers relevant content to users based on their needs and interests. 
Companies use real-time behavioral and customer data to create highly contextual and relevant content.
The extensive list of recommended movies and TV series from leading OTT platforms is a great example of AI-powered personalized user experience. Its recommendations are based on an algorithm that accumulates data. 
OTT platforms may recommend content based on your viewing history and preferences.
The data-driven insights about your audience and their interests can give you an edge over competitors and deliver a seamless customer experience.
AI also helps prevent issues like video buffering and data loss.
Moreover, by continuously learning from customer experiences, AI can help create better and more engaging experiences for audiences. 
The five R's of OTT Personalization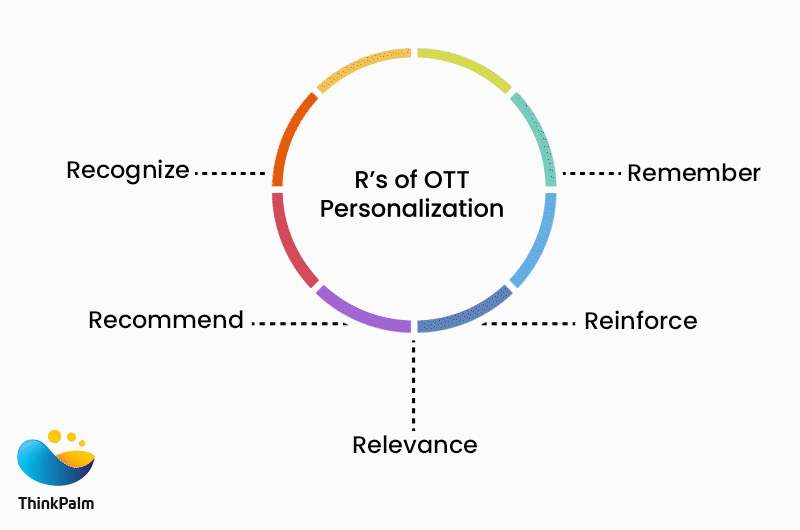 Recognize:

Identify users, including demographics, geography, and expressed interests.

Remember:

For future analysis, remember user preferences, viewing patterns, and habits.

Recommend:

Recommend what users want to see based on their behavior, preferences, and interests.

Relevance:

Suggested content should be relevant to the user's location, preferred language, and time of year.

Reinforcement:

Record user reactions to recommendations and use additional analytics to recommend better.
Also Read: Big Data: How To Leverage Streaming Analytics For OTT Content Personalization
How the OTT King Netflix Uses Machine Learning?
Netflix, the king of the OTT, has come a long way since its humble beginnings as a movie distribution company in 1997.
Today, the company maintains its dominance with a massive 200 million dollar market share—Users (worldwide). 
However, only some of you know that the online video streaming giant owes much of its success to machine learning, big data, and analytics long before others realize its importance in global business scenarios.

Among the many OTT platforms and video content providers, Netflix stands out.
According to sources, nearly fifty million viewers worldwide watch sports, games, shows, and movies through this OTT video streaming service platform.
Like its other video streaming rivals, Netflix chooses to amp up its style of play by focusing on AI and machine learning.
Whether it's content creation, curation, or user experience, machine learning is at the forefront of this platform.
Here are a few things that make them stand out in the market.
Netflix Thumbnails
The video streaming platform showcases compelling images related to popular shows and actors to increase click-through rates.
With the proper implementation of ML, Netflix has acquired a huge database or catalog of shows or videos you wish to watch on the platform.
This schedule is automatically created by an ML process powered by Netflix based on viewer preferences.
Netflix also consistently chooses a consistent image based on user preferences.
Homepage
The Netflix website exemplifies the effective and efficient application of machine learning. In addition, it uses machine learning to recommend movies and games.
Netflix Recommendation System
The recommendation algorithm used by Netflix is powerful. Users can receive personalized advice from the platform.
Also, Netflix collects data based on preferences and later uses that data to find content that interests you. 
Streaming Quality Of Ott Platforms
Netflix continues simplifying its streaming video service based on user preferences and viewer information derived through artificial intelligence and machine learning.
In addition to video quality aspects, the platform also uses data to improve load times for shows, games, and movies. Moreover, it uses user data to measure and simplify the architecture of well-known OTT platforms.
Most Popular Questions 
Question: What is OTT, and how does it work?
Answer: OTT or streaming TV refers to any content delivered over the Internet. This includes subscription streaming services where consumers can access content on demand without using a traditional satellite or cable provider.
Question:  How is Artificial intelligence benefitting the OTT industry?
Answer: Artificial intelligence and machine learning (ML) are already changing the way we consume content on OTT platforms to the benefit of both users and platform owners.
As OTT channels replace cable TV, artificial intelligence and machine learning technologies have become key to attracting and retaining viewers with an enhanced experience.
Question: What is the Future of ArtficiaI Intelligence and Machine Learning in the OTT industry?
Answer: AI and ML are transforming the OTT space, enabling better data monetization and dramatically improving the user experience. That's why platform owners must embrace these tools and deliver the best possible user experience that keeps viewers coming back for more—making content owners laugh all the way to the bank.
Wrapping Up
OTT companies like Netflix and Amazon Prime have applied machine learning and artificial intelligence "the right way," proving they can work wonders.
Effective AI solutions and machine learning can personalize the user experience and benefit OTT media in terms of subscriptions, users, and overall satisfaction.
The right technology partner, like ThinkPalm Technologies, with deep industry experience, can provide world-class machine learning and software development services in the UK and worldwide to take your business to the next level. 
Moreover, our highly seasoned and experienced AI and ML team uses various predictive models such as decision trees, linear and regression models, and neural networks to provide the best possible solutions. 
Connect with our experts today, and we will help you solve today's challenges with tomorrow's technology!

---