Conversational chatbots have revolutionized customer experience in almost every industry, enabling computers to converse with humans in natural language. True to its name, conversational chatbots can naturally engage customers and help them solve their issues. These AI-based chatbots provide the best solution for customer queries and can respond to customers' questions and issues with a simple word or two. Moreover, chatbots have significantly impacted the finance service industry by helping companies streamline their processes, enhance productivity and improve customer support. 
While conversational chatbots have been around for several years, they are becoming increasingly popular nowadays as more businesses are focusing on intelligent automation (IA). According to IBM Intelligent Operations, 80% of American consumers use messaging apps at least once daily. This has made it imperative for businesses to offer some kind of messaging customer support for their clients. But keeping up with all the customer enquiries and concerns can be challenging manually. This is where smart Artificial intelligence based chatbots that have the capability to communicate by leveraging Natural Language Processing (NLP), Machine Learning (ML), and Sentiment Analysis have become an essential part of modern business.

Why do Financial Sectors Need Chatbots?
The finance industry is always looking for new ways to attract customers and increase revenue. The rise of conversational bots makes it possible for banks, credit unions and other financial institutions to do just that.
In a recent survey by eFinancialCareers, 82% of finance professionals said they are using conversational chatbots to help with customer service. This isn't just a trend in banking — the same survey found that 90% of human resources professionals are also using chatbots on their teams.
So why are banks, credit unions and other financial institutions so interested in chatbots? 
The answer lies in the fact that conversational chatbots can help improve customer engagement and satisfaction. The finance industry is one of the world's most profitable and largest industries. It is also one of the most competitive areas where human interaction plays a vital role. Banks and financial institutions are constantly looking for new ways to attract customers and increase their customer satisfaction levels. One of the best ways to do this is through chatbots. Chatbots are artificial intelligence-driven applications designed to facilitate human-to-human interaction on websites and messaging platforms such as Facebook Messenger, Slack, Telegram, WeChat, etc. Chatbots can be used by banks and financial institutions to provide customer service support and facilitate transactions between customers and their bank accounts.
Also Read: How Advanced Artificial Intelligence Based Chatbots Help Save Time In Customer Service
Benefits of Chatbots in The Finance Industry
In addition to helping people communicate more efficiently and effectively, chatbots offer businesses numerous benefits. Combined with the effectiveness of Conversational AI and natural language processing (NLP), chatbots can take human interaction to the next level. These technologies allow a computer to converse with users in natural language and help understand human emotions and sentiments with sentiment analysis. NLP is a specific field of study in linguistics that focuses on computer programs that can understand and generate human language. This is significantly required in banking and finance chatbots as these bots rely on machine learning techniques and data to recognise words, phrases and sentences.
1) Conversational chatbot helps in improving customer satisfaction.
The most important thing that conversational chatbots do is that they help in improving customer satisfaction. They offer information about products, services, deals and other offers that can help you make informed decisions about your purchases.
2) Conversational chatbot offers personalised support.
No matter what type of question you ask, a conversational bot will answer it accurately and precisely. You can ask any sort of question-related to finances, investments or other financial services related to ATMs, credit cards, etc., and get an instant response from your conversational bot.
3) Instant access to information.
They can give customers instant access to information about products or services they may want or need. For example, if you're interested in learning about a particular banking service, you can ask your chatbot for more information by simply talking to it in natural language.

4) Chatbots can help in customer retention.
Chatbots can help businesses build customer loyalty by providing personalised interactions and recommendations based on past interactions with customers or other platform users. This will encourage repeat business and increase brand awareness among existing customers, which is especially important when dealing with highly targeted markets such as financial services companies.
What Is the Future Of Conversational Chatbot
Conversational chatbots with Artificial Intelligence (AI), Machine Learning (ML), NLP and sentiment analysis are an innovative type of interactive bot technology that allows consumers or potential customers to communicate with a business. 
There are many applications for conversational chatbots in the future, but some of the most common uses include:
1) Customer service: 
Chatbots can help businesses provide better customer service by providing answers to questions and solving problems quickly. They can also help customers find answers to their questions by following links or making suggestions based on previous interactions with the company's website or mobile app.
2) Sales: 
Chatbots can be used as virtual assistants in sales environments. They can answer questions about products and services, provide quotes and lead generation tools, schedule appointments and more.
3) Marketing: 
Chatbots can be used for marketing purposes, including lead generation, email campaigns and webinar registrations. They can also automate social media posts so that you don't have to spend time on them anymore.
4) Website Analytics:
Chatbots on your business website can provide actionable insights related to customer preferences and data analytics. The sales team can use this relevant information to personalise the website's performance and reach out to targeted audiences. 
Adopt Chatbots For Your Business Before It's Too Late
Chatbots are a great way to improve productivity and efficiency in your business. Whether you're looking for a new way to engage with customers or just want an easy way to make quick sales, chatbots can be an effective tool for getting the job done.
Several businesses all around the globe have adopted chatbots to enhance their customer services. Nowadays, you can see chatbots everywhere, on almost all your favourite websites and social media platforms; from e-commerce sites to ride-sharing services, chatbots are omnipresent.
This is because chatbots have many advantages over traditional forms of customer support. They are able to provide a quick response to questions, solve complex problems and naturally communicate with customers.
Also Read: Can AI Know How Your Customers Feel? Yes, With Sentiment Analysis It Sure Can!
ThinkPalm Chatbot For Financial Sectors
At ThinkPalm, we develop innovative chatbots for businesses. ThinkPalm's Artificial Intelligence-based smart chatbots are conversational bots that can be used by any financial industry irrespective of their services or offerings. The chatbot's user interface is simple and minimalist, making it easier for customers to interact and seamless for admins to gain insights. ThinkPalm's chatbot development services can develop chatbots that can seamlessly integrate with any platform, website, social media platforms, operating systems, etc. and provide precise responses to customers. The AI-based sentiment analysis helps the chatbot understand customer emotions and enables the bot to provide just the responses your customers are looking for and nothing more or nothing less!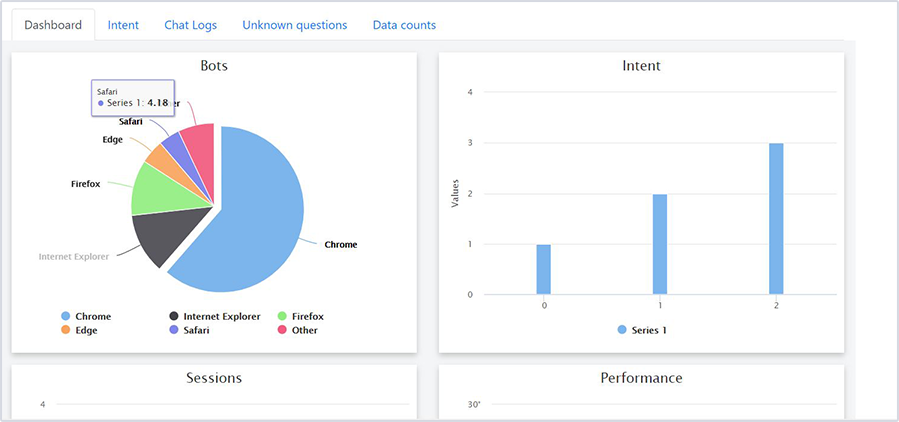 ThinkPalm's Intelligent Chatbot analytics dashboard lets businesses derive insights from customer interactions. Website owners can identify customer analytics to make strategic and tactical decisions. By integrating the chatbot into your business website, you not only enhance customer service but also improve business efficiency and productivity.
ThinkPalm Chatbots Are GDPR Compliant 
Our Chatbots are also GDPR compliant. The General Data Protection Regulation (GDPR) is the result of many years of work by the European Union to unify and strengthen data protection for all EU citizens. The secure chatbots for financial services ensure that privacy is the top priority. The GDPR compliance gives you more control over how your data is used, while to us, it will be a simple legal environment where we can operate. 
ThinkPalm Chatbot Capabilities
Intent-Based Response

Conversational AI

Sentiment Analysis

Multilingual Capabilities

Secure Customer Interaction
Technologies Used in ThinkPalm Chatbot Development

Integrate ThinkPalm Chatbots Across Multiple Platforms
Website

Social Media

E-Commerce Sites

Android Applications

iOS Applications

HR Portals And CRM
Get a FREE consultation today and let our expert chatbot developers help you start your intelligent automation journey!

---