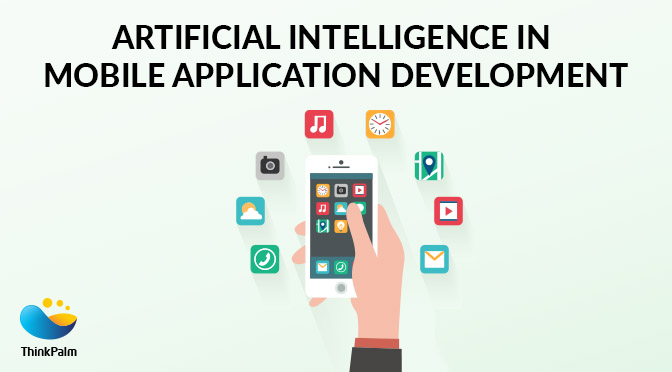 With the capability of human-level consciousness and social awareness; the current technological advancements in artificial intelligence are rapidly achieving overall recognition. Nowadays, Artificial Intelligence has been mainstreamed, with its innovations scattered beyond every convenient invention. It is swiftly intensifying every prevalent industry from every genre, making it a million-dollar investment for leading companies.
Artificial Intelligence In Mobile Application Development
Mobile applications have a significant purpose in our day-to-day technological exposure and due to this, there's a demand among companies to conceive and achieve something innovative. Smart applications are being developed with the potential of human minds, and are being executed as built-in intellectual concepts in various forms, including mobile applications. 
The impact of AI is far-reaching, including powerful algorithms and machine learning, it is a fundamental aspect of both creating innovative mobile applications as well as enhancing the customer experience. With the inclusion of Artificial Intelligence featured with mobile app development, many handheld devices will be able to execute some high-level technology functions such as voice assistance, emotion recognition, face recognition, image scanning, and much more. 
Benefits of AI 
Artificial Intelligence is crucial to monitor the preferences & trends of a customer and proffer appropriate data into an algorithm. This results in an interactive, user experience that retains them occupied in using the mobile application.
Artificial Intelligence in mobile applications can analyze data and present information that identifies the key behavioral patterns of mobile app users. These applications can present meaningful decisions without human assistance and can accustom to deliver seamless results even on exposure to various sets of data. From answering simple questions such as "how to trend on Twitter" to the implementation of sentiment analysis in mobile apps to revolutionize customer support, AI has built several opportunities that benefit you to stay ahead of competitors. 
Artificial Intelligence Enhances Your Daily Operations
One of the significant benefits of Artificial Intelligence in mobile applications is their capability to complete tedious tasks that would have been time-consuming for people. Businesses will probably have hundreds of inquiries to respond to every day. However, with the use of AI, customized responses based on the inquiries are sent back to the customers. Chatbots and virtual assistants further improve the ability of AI bots to interact with the user and provide solutions about the services or products.
Artificial Intelligence in the Internet of Things 
According to a recent study, millions of devices will be connected to the internet by 2020, ranging from watches, smart gadgets, and even vehicles. These data from devices would be helpful for numerous situations such as predicting accidents, real-time information from medical equipment, create smart homes and much more. These ever-expanding applications of AI, will not only change the way we work but will also change everything from our homes to vehicles. Smart electronic devices and vehicles can be controlled with just a touch by the use of apps implemented in smartphones.
AI In Face In Security And Face Recognition
Propelling the expanse of facial recognition systems in high-level security and reliability; mobile applications are also using this feature to unlock smartphones or identify people. Recognizing and evaluating appearances is so important in security, that smartphones have an entire section of customized AI devoted to it.  Software and hardware improvements enabled a strategy called deep learning in artificial intelligence, such that there are multiple layers of image refining which provide accurate image analysis.
AI Provides Users A Personalized Experience
Mobile phone applications are amazingly interactive with the latest adaptations from AI, therefore the augmentation of AI in the mobile apps has enhanced the user experience. Mobile applications by retail sectors can detect a user's location or data based on GPS and provide a personalized solution for the user. These applications keep track of the previous purchases and customer behavior; therefore suggesting similar selections based on these collected data.  This gives a better recognition for mobile apps as they understand customer preferences, therefore encouraging sales through customer engagement and an increased ROI.
Smartphone Camera Are Getting Better in Subject Detection
Various camera mobile apps feature analysis & detection of face automatically as well as the scene detection that identifies background objects. With the implementation of artificial intelligence in mobile applications, smartphones are used for scene recognition or to automatically tune background settings. Photographers can utilize such apps without having to know the complex computational process that happens behind the screen. With the success of image sharing applications such as Instagram & Facebook, the mobile app market is moving towards the implementation of AI to introduce sophisticated features to mobile photography.
Conclusion
The importance of building mobile applications with Artificial Intelligence holds great importance in the coming technological era, with AI-enabled mobile apps transforming the norm for businesses. If you are keen to remain ahead of your competitors and stay updated, it's time to take a look at how the modern and upcoming mobile applications can be focused on Artifical Intelligence and its implementation.
---