The tech world is unfolding faster than ever before. Ever since the global pandemic, businesses and companies have experienced a major downfall but, now, they are slowly getting back on track. At present, enterprises have been focusing on their core business by utilizing at least one type of service offering. Even though software-as-a-service (SaaS) held the largest global market in the year 2020 (105 million spent on that year alone) other services, such as IAaaS and PaaS are expected to emerge faster in the upcoming years. 
Now, the "As-a-Service" approach has taken a turn and is applied to a new field- Artificial Intelligence. AIaaS has been automating business operations hence improving product quality, employee efficiency, and customer experience. From a simple virtual assistant such as chatbots to complex predictive analytics tools, there's an extensive range of AI applications that businesses are looking forward to implementing. Sometimes building an AI solution from scratch and integrating it into existing business architecture can be challenging. That's why businesses often consider AI-as-a-service to manage their third-party solutions and are eager to utilize it right away. 

What is AI-as-a-service?
Artificial Intelligence as a service signifies off-the-shelf AI tools that empower companies to execute and scale AI techniques at a portion of the cost of a full, in-house AI. Artificial intelligence, in a nutshell, can be referred to as computer systems or algorithms that can carry out human-like tasks. This involves factors like reasoning, solving problems, and learning from past experiences. Simply put, in other words, machines that can act and think like humans.
Also Read: How Manufacturing Industries Can Detect Defects Faster With Artificial Intelligence and Deep Learning
Artificial Intelligence makes AI services such as cognitive, data analytics available to everyone. Through low-code tools and predefined APIs, users can control the power of AI without composing a single line of code. 
Although there are many different types of AI-as-a-service, the most popular three types of services that fall under this stream are-
Bots and chatbots are one of the most famous AIaaS available today. Chatbots utilize AI algorithms to imitate human conversation. They blend machine learning (ML) capabilities and NLP to interpret user queries and provide suitable responses. 
Application Programming Interface
A lot of AIaaS comes with APIs today. It is short for Application Programming Interface. It serves as an intermediary, providing two pieces of software to interact.
Companies and enterprises utilize ML algorithms to find patterns in vast amounts of data, streamline processes and make predictions. 

Benefits of AI-as-a-service
When it comes to the benefits of AI-as-a-service, there are many:
It provides an out-of-the-box solution. It's very quick and easy to set up.

If you are lacking the resources to develop the in-house software, outsourcing AI would be the most suitable option. 

There is no need to develop a complicated infrastructure or to hire a team of experts. 

It's pretty adaptable. AIaaS provides many customization options so that you can utilize AI tools for your business needs.

You only have to spend money on what you use.

It's pretty expandable. It lets you extend up and down based on your business requirements and growth. 
How does AI-as-a-service solve business problems?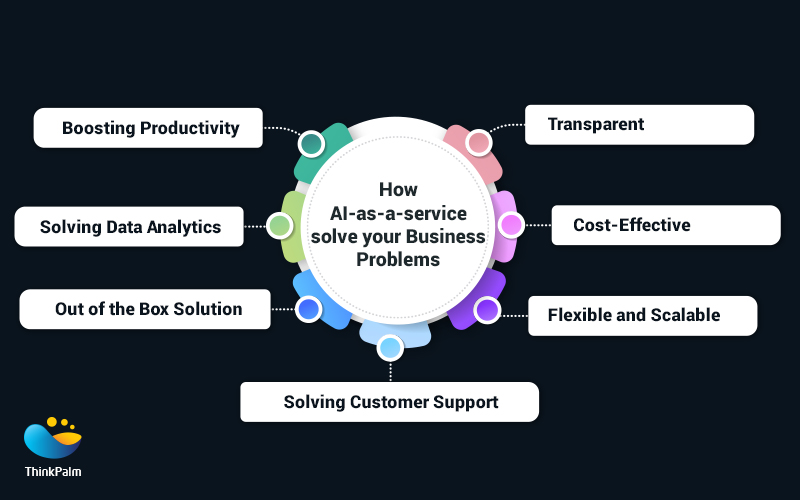 AI-as-a-service not only helps companies for their overall growth and their ability to pave innovative technology into the field, but it also plays a good role in solving business problems. Companies are adopting AIaaS because of the vast advantages it brings to the table. Some of the advantages include-
This is most definitely one of the biggest perks of implementing AIaaS. This acts as a huge business problem solver as AIaaS helps companies to cut down the cost of development of an AI solution significantly. Besides, the cost is transparent. Long story short, you need to only pay for what you require. 
The versatility of AIaaS helps companies to move ahead with great confidence. Though machine learning needs a lot of computing power to operate, you may only require that power in a little amount of time—you don't need to be leveraging AI non-stop.
Also Read: The Role of Artificial Intelligence (AI) in Robotic Process Automation (RPA) and the Multiple Business Benefits
One of the best reasons why companies utilize AIaaS is that the platform will do the hard lifting for you. That is you don't even have to learn how to code. AIaaS eliminates the requirement of selecting experts and developing a complex high-level infrastructure. 
A lot of businesses usually tend to ignore making the model scalable when creating it. Third-party solutions don't skip to add this crucial trait in the design. This way, when your business expands and begins to demand extra from your model, it's available to deliver.
AIaaS very much tends to contribute the best solution for whatever your business project is. It can be fine-tuned to agree and be compatible with your project's needs, business, or data. 

Conclusion 
Artificial Intelligence as a Service (AIaaS) tends to make AI technology accessible and open. It presents cost-effective, quick, and ready-to-use solutions with the least effort. Companies are trying to get hold of innovative services to keep up with the latest Artificial Intelligence trends the new tech world has to offer. 
We, at ThinkPalm, follow an active approach of combining innovative methodologies with AI technology, assuring close alignment with your company objective. Since the palette of possibilities AI presents before the global business scenario is so diverse and huge, it is essential that you need to be versatile with AI implementations in your business; and that is where ThinkPalm comes in. With our technological ability, hands-on experience in controlling AI projects, and proficiency in cloud computing, we can help reach your goals.
---