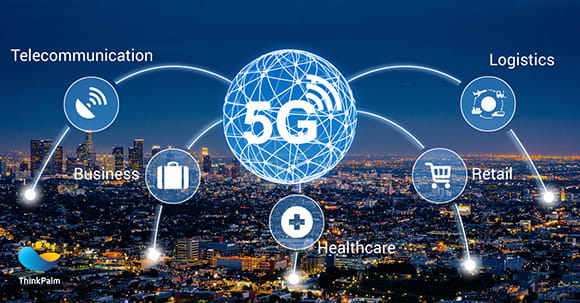 Racing towards 5G
5G is largely observed as the fifth generation cellular network technology that provides broadband access. It is a new and major breakthrough innovation in a broadband connection. With any sort of 5G association, you'll see quicker system speeds and a much more personalized web experience through a technique called Network Slicing, which is creating separate wireless networks in the cloud, allowing users to create their spot network as per their usage and requirement. Launch of 5G will be crucial for self-driving cars requiring continuous streaming of data with significantly lower latency that becomes necessary for safer and better user experience. For a world expecting to grow threefold by 2025, 5G will not just help in linking and controlling robots, but also boost the efficiency of medical devices, industrial equipment, and agricultural machinery.
What makes 5G so different from 4G?
High-speed internet connectivity – about 10Gbps as per predictions

Ultra low latencies

Enhanced network support for high data traffic

Augmented cell sites
How does 5G become the catalyst?
According to Bain & Company estimates, the B2B IoT market will surpass $300 billion by 2020. 5G technology will bring in breakneck speeds, maximum connectivity, ultra-lower latencies and universal coverage leading to a smarter world. These benefits will make IoT far more superior and effective. New IoT use cases will originate, with the breakthrough advantage of high-speed data transfer by 5G technology. Considering the speed at which the data is transmitted and resolved latency issues, organizations are expected to be deploying more of these connected devices. By 2020 number of connected devices is expected to exceed 30 billion, but a full-scale rollout of 5G is not likely until 2025.
Some domains that could possibly adopt  5G in their early stage are robotics, artificial intelligence/machine learning, and big data analytics. Driverless cars that got cameras and sensors which are required to communicate with GPS and other sources in real time, will find 5G technology implementation a boon.
Telecommunication:  Telecom industry will be benefited with this technology implementation, as the number of wireless communications enabled IoT will massively rise. Telecom operators will be able to provide high-speed network connectivity with higher capacity to carry more traffic thereby reducing cost. Slicing technique along with IoT technology operators can offer customized services like home automation and enterprise productivity solutions. According to Machina research, IoT will account for one-quarter of the global 41 million 5G connection in 2024.
Healthcare:  Another sector that is going to have a tremendous impact with 5G technology is health care institutions and hospitals where it is not just about managing the back house by helping in becoming more efficient, more connected and have better information, but it will be more of a revolution with 5G which enable to bring a hospital to a patient instead of a patient struggling to reach the best hospital facility. For instance, 5G enables to take a doctor/nurse and put them where the patient is, even if they are not in the same place. Other possible use cases include making medical information like scans available in real time while doing surgery or while treating a person. Cost of managing expensive instruments in the medical institutions can also be reduced by just having the physical input instruments/equipment parts at the hospitals whereas the expensive part and information be maintained back in the cloud or headquarters. This actually allows medical machines to be available in every corner of the world, which are now just available only in metropolitan city hospitals.  All of this can improve patient outcomes and reduce cost, thereby delivering sustainable health services.
Logistics:  The industry of logistics by road and rail will be transformed with 5G and IoT with their improved speed and accuracy, helping in giving real-time insights and information of goods, starting from factory till it reaches customers that too with fine-grain accuracy.
Retail:  Retail industry will witness several new technology introductions. With 5G, real-time updates on out of stock items could be made available, thereby providing a better retail experience. Or for instance, just by scanning a QR code a customer can see how an outfit looks on him/her before going for an actual trial room experience which will be of greater convenience. Also offering an ultimate customer experience through VR  during shopping is another opportunity, that awaits the full implementation of 5G, though it is not something possible in very near future.
And for retailers, 5G will help in overcoming some pitfalls existing with RFID (radio frequency identification) technology which they have been using since 3G & 4G era for identifying and tracking of unlimited number of items in a store through tags attached to them. It also helps retailers get information about items that have been searched for but not purchased by the customers, thereby giving retailers a chance to observe and understand the customer behavior and think about what could possibly be done to improve customer engagement. With 5G all these advanced technologies will be enhanced and improved to a further enormous extent, with each and everything being connected, controlled and coordinated from a fingertip.
This massive machine to machine connectivity by 5G comes with several challenges as well. Its higher frequency requires a more difficult design that comprises a complex MIMO antenna and Beamforming technology. A full rollout of 5G demands a whole new infrastructure which will incur a huge cost, as the existing ones are designed, deployed and optimized to suit 3G and 4G.
5G is an exciting technology that will unlock possibilities to enhance your life. Even though a fully functional 5G network implementation will take another four to five years, companies are already investing billions to set up their networks and to fund new technologies because once 5G rolls out it will change everything that uses a wireless connection, it will revolutionize the future.
---