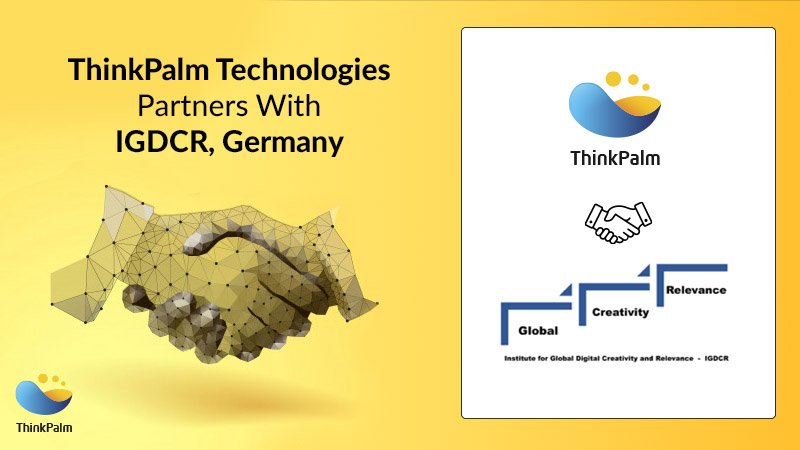 INFOPARK, KOCHI—May 25, 2021: The Institute for Global Digital Creativity and Relevance (IGDCR) is one of the leading institutes in Germany for enterprise transformation and business intelligence consulting projects. The IGDCR works together with partners and associates from all around the globe to ensure that brands realize the potential of digital transformation and adopt new strategies. ThinkPalm Technologies' recent collaboration with IGDCR will enable clients to tackle the challenges of the present and upcoming digital transformation, empowering the workforce to do higher-value work with better intelligence. This esteemed partnership will continuously optimize clients' business processes by applying knowledge gained through consolidation and analysis of business information all resulting in increased ROI, lowered cost, and improved service efficiency.
IGDCR partners with select software providers from around the globe to help enhance the value of digital transformation, automation and similar offerings. The advantage of ThinkPalms' deep expertise in Enterprise Application Development, Product Engineering, Artificial Intelligence, Internet of Things (IoT) & Telecom services will enable IGDCR to align itself with the goals and metrics of their clients. Driven by client satisfaction, ThinkPalm maintains an honest and open relationship, supporting businesses with the resources, services, solutions and consulting. The IGDCR- ThinkPalm partnership, will help clients stay competitive in the fast-changing market and leverage rapid technological developments to achieve a holistic knowledge of their customers and brand performance. With simplified, yet enriched solutions, this collaboration will be able to develop sustainable digital strategies and activities to drive target audience awareness; it will also bring their clients one step closer to success by seamlessly distinguishing their services from competitors. Currently, with three offices and over 500 tech experts, ThinkPalm has accelerated the transformation journey of customers, so that they could innovate and adapt to a digital world. Through this collaboration with IGDCR, ThinkPalm can further accelerate the development of its highly innovative, leading-edge solutions and services, delivering innovation to clients who need it the most.
About IGDCR
The IGDCR network encourages companies to identify their shortcomings and existing gaps, they help discuss and develop the digital transformation possibilities (step by step or disruptive). Their assessments and recommendations can assist companies to adapt, compete and successfully develop. From the development and coordination of the digital orientation of the company to brand growth, customer experience and product strategy, IGDCR's has helped businesses better serve and understand their customers. Presenting them opportunities to improve their customer engagement, and find more potential customers in the marketplace through digital transformation. The expert leadership of CEO, Otto Schell, has contributed a set of empirical and broadly applicable insights that have helped IGDCR quickly adapt to new challenges and opportunities. Over the years, IGDCR has strongly influenced the successful digital transformation of several companies and significantly increased the effectiveness of their teams and processes.
About ThinkPalm Technologies
ThinkPalm is a Product Engineering and Software Services company, equipped with a holistic approach and diverse industry expertise in Mobile and Web application development, Enterprise application development, Telecom IT services and IoT Services. ThinkPalm also enables companies to become data-driven and competitive with Artificial Intelligence services, Robotic process automation, Bigdata and Testing services. With over a decade of expertise in these domains, ThinkPalm develops innovative solutions that help improve business outcomes and has significantly helped companies achieve their dream of digital transformation.