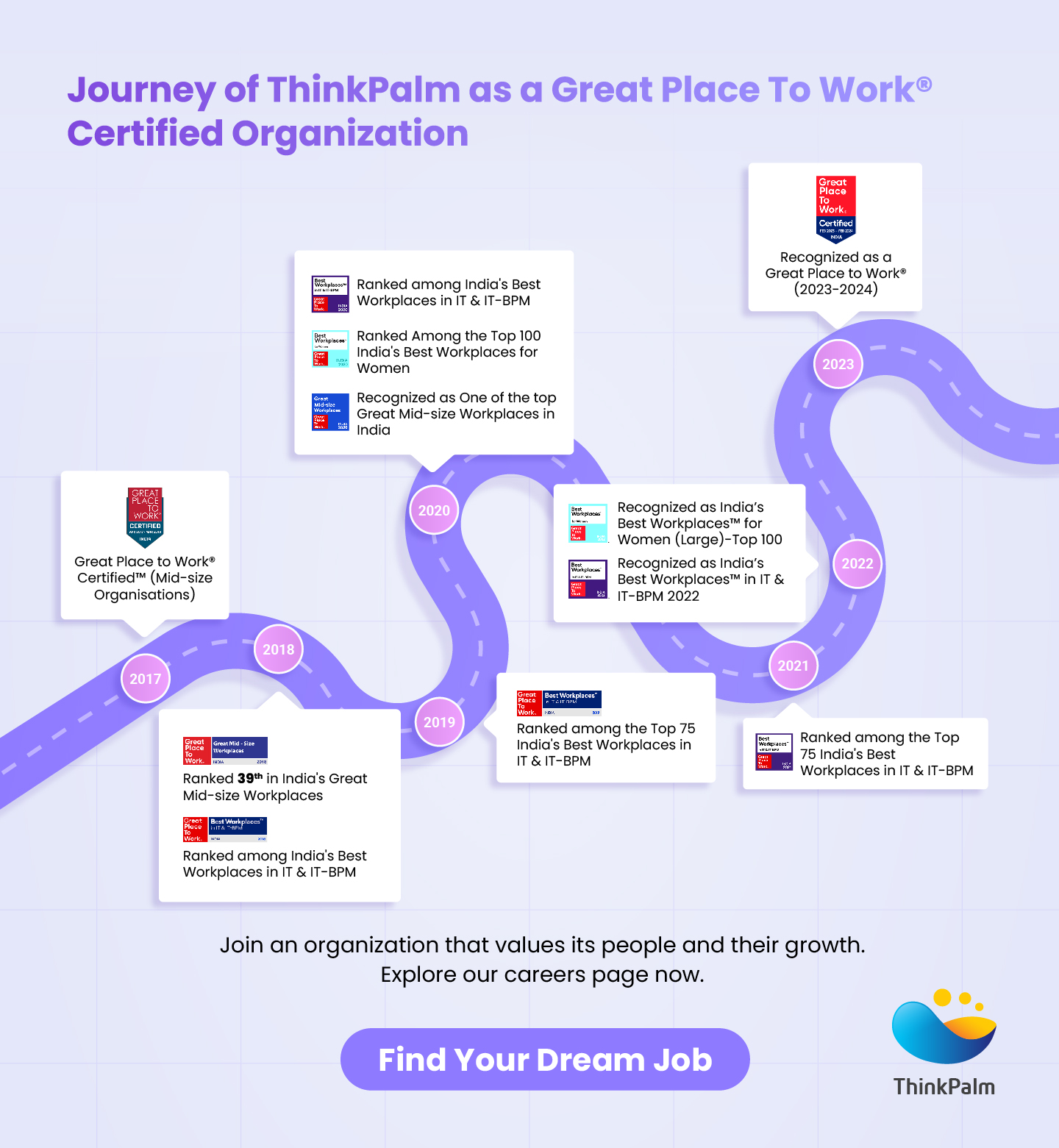 Kochi, 13 March 2023 – ThinkPalm Technologies has been Great Place To Work® Certified™ in India (2023-2024)!
A leading Product Engineering and Software Development company, ThinkPalm has been named a Great Place to Work for the 7th year in a row by the Great Place to Work® Institute, a global authority on workplace culture.
ThinkPalm's unwavering dedication to crafting a positive and inclusive work environment for its employees has been aptly acknowledged with the coveted Great Place to Work® certification.
The organization has been praised for fostering a culture of trust, collaboration, and respect and for providing its employees with opportunities for comprehensive growth and development.
ThinkPalm's Commitment to Building a Diverse & Inclusive Workplace
ThinkPalm fosters a positive work culture that promotes innovation, collaboration, and continuous learning. The company values its employees and strives to provide a supportive and nurturing work environment that enables them to grow both professionally and personally.
The certification is based on an anonymous survey of employee satisfaction and people practices, including a cultural audit conducted by GPTW, which evaluates various aspects of the workplace culture, such as leadership, innovation, and inclusion.
This year, ThinkPalm Technologies received a Trust Index© Score of 88%, a testament to the trust and confidence the company's employees have in the organisation.
The company is committed to building a diverse and inclusive workplace where everyone feels valued and respected, and it actively promotes equality and opportunities for all.
As a technology company committed to excellence, ThinkPalm strives to deliver exceptional value to its clients and make a lasting impact in the industries it serves.
Great Place to Work® – The Global Authority on Workplace Culture
Great Place To Work® is the global authority on workplace culture. Since 1992, they have surveyed more than 100 million employees worldwide and used those deep insights to define what makes a great workplace: trust. Their employee survey platform empowers leaders with the feedback, real-time reporting, and insights they need to make strategic people decisions. The Institute serves businesses, non-profits and government agencies in more than 60 countries and has conducted pioneering research on the characteristics of great workplaces for over three decades.
In India, the institute partners with more than 1400 organizations annually across over 22 industries to help them build High-Trust, High-Performance Cultures™ designed to deliver sustained business results. Hundreds of CEOs and CXOs from India Inc. are part of the great place community that is committed to the vision of making India a great place to work for all.
The Institute's research shows that great workplaces are characterized by great leadership, consistent employee experience, and sustainable financial performance. These organizations can deliver a consistent experience to all their employees irrespective of their role, gender, tenure, or level. Their leaders believe in the vision of creating and sustaining a great place to work for all and role models for all leaders.
Learn more at https://www.greatplacetowork.in/
About ThinkPalm Technologies
ThinkPalm Technologies is a global leader in Digital Product Engineering and Software solutions development with branches in Cochin, Trivandrum and Chennai. The company was founded in 2010 and has since grown into one of the best mid-sized organizations with a workforce of over 650+ employees.
ThinkPalm is an organization equipped with a holistic approach and diverse industry expertise in Mobile and Web application development, Enterprise application development, Telecom IT services and IoT Services. 
ThinkPalm also enables companies to become data-driven and competitive with Artificial Intelligence services, Robotic process automation, Bigdata and Testing services.
ThinkPalm, with over a decade of expertise in these domains, develops innovative solutions that improve business outcomes and significantly help companies achieve their dream of digital transformation.