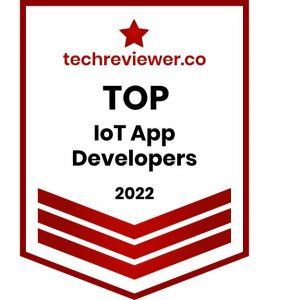 Techreviewer has recognized ThinkPalm for their astonishing performance and rewarded them all with a spot on Techreviewer's list of top IoT development companies. ThinkPalm's IoT Services for industries are robust, cost-effective, and exceptionally simple to integrate. Companies, big and small, are leveraging enterprise IoT and consumer IoT to improve productivity, derive real-time insights from connected smart devices. These innovative IoT solutions from ThinkPalm have helped businesses significantly reduce costs, and to drive innovation through new business models. Over the last decade, ThinkPalm has expanded their services and have entered domains such as chatbot development services, DevOps, Cloud computing, RPA, AI services and much more.
All companies in a specific market are compared to one another and they compete on several criteria that Techreviewer ranks them on. Only the best performers can receive a spot on the list. They rank on:
Services provided
Brand visibility and reputation
Customer reviews
Awards offered
Company clients
Case studies
Social media activity
ThinkPalm has proven itself in every criterion there is. Not only do they have a reputable team of experts that offers IoT development services, but they also have the latest test automation services and testing labs to ensure that all services are working efficiently. They also have consistently good reviews on various platforms, positive client testimonials, a list of awards, a plethora of clients, and have multiple case studies. The company is the epitome of an industry leader in not only IoT services but also various other services including software development and product engineering. Techreviewer expects to see great things from them in the future.
About Techreviewer
Techreviewer researches top-performing companies in IT-specific markets and creates lists of the best performers. Their main goal is to provide consumers with a way to find reputable companies that offer outstanding work so that consumers will never have to worry about getting ripped off. All companies on their lists pass through their standards and outperform competitors.
Written by the Techreviewer Team