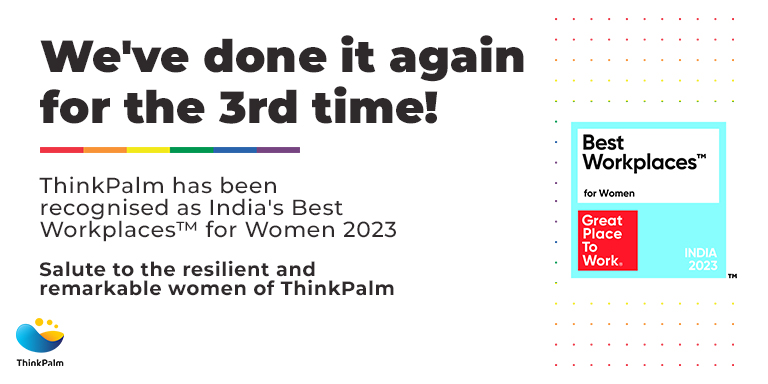 ThinkPalm Technologies has been recognized as India's Best 50 Workplaces™ for Women in 2023 for the third time by the Great Place To Work® Institute (India) for fostering a culture of gender equity, equality, and inclusiveness. This certification is regarded worldwide as a benchmark for finding the best workplace cultures. Several companies and employees were surveyed from diverse industries ranging from manufacturing, information technology, healthcare, education, retail, finance, logistics, and so on.
Now, ThinkPalm has bagged this great feat by creating a gender-equal workplace that focuses on equality, diversity, and inclusivity. More than 41% of ThinkPalm's workforce constitutes women and is riding the high waves through this recognition that acknowledges its efforts in nurturing an inclusive and supportive environment in the workplace for its female employees.
Apart from ThinkPalm's efforts, the recognition also highlights the key contributions made by its women workers toward the success of the company. One of the outstanding affinity groups for women employees, 'Sakhi' is a foundational platform for empowering, motivating, inspiring, and promoting networking among the women workforce in ThinkPalm.
Through organizing various events such as cultural, educational, healthcare, charity initiatives, and other mentorship programs, Sakhi empowers and supports women employees to expand their interests, improve work-life balance, promote socializing, and ensure a vibrant atmosphere of mutual learning and collaboration.
This great achievement reaffirms ThinkPalm's steadfast commitment to identifying and nurturing a workplace atmosphere filled with the values of gender equity, equality, diversity, and inclusion. ThinkPalm is keen on implementing strategic policies to uproot any incidence of gender bias and inequality. Thirteen years and counting, we focus on building a better support system based on unbiased employee policies and strategies that uplift the status of our women workforce.
The Best Workplaces for Women certification™ reveals ThinkPalm's relentless commitment to offering a gender-inclusive workplace where each and every employee is heard and valued while helping them grow professionally by leaps and bounds. We firmly believe that we lead by example as we focus on continuing our efforts to go above and beyond our workplace to help others get inspired and follow suit to ensure an inclusive environment that fosters a sense of belongingness for female employees.
About Great Place To Work®:
Great Place To Work® is an international authority on workplace culture and leadership practices. Ever since its inception in 1991, it has assisted enterprises excel by offering a positive work atmosphere for employees. The certification process encompasses employee feedback surveys, meticulous workplace assessments, and evaluation of management practices to arrive at a conclusive judgment.