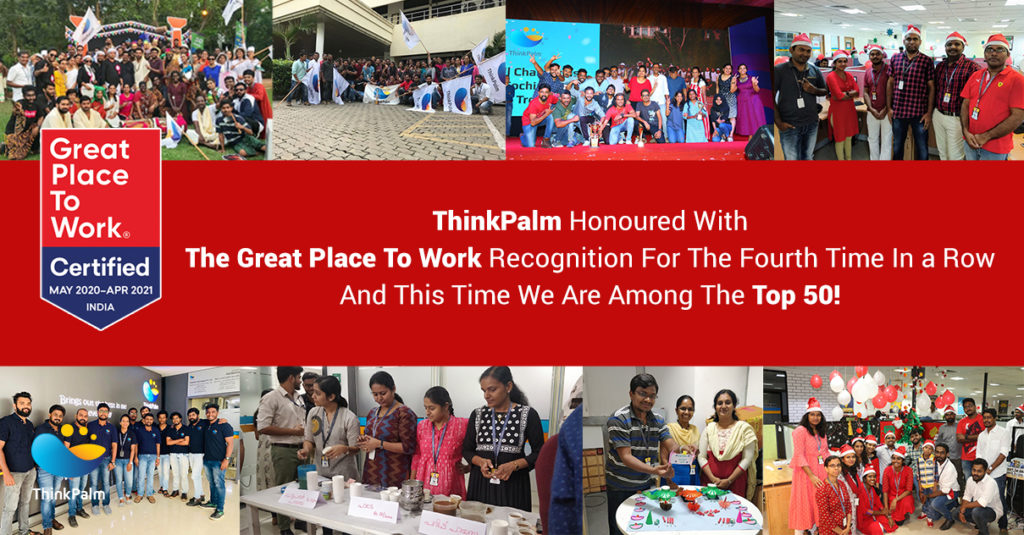 It has been a proud moment for ThinkPalm yet again, to be awarded the Great Place to Work recognition for the FOURTH time in a row! This accomplishment is a strong testament to ThinkPalm's high-trust, high-performance work culture and a reflection of the true passion and commitment of our employees. 
The Great Place to Work Certification is certainly the most definitive 'Employer-of-Choice' recognition that organizations strive to achieve. The certification is recognized all over the world by both employees and employers alike and is deemed the 'Gold Standard' in recognizing and identifying Great Workplace Cultures.
What Made It Possible For The Fourth Time?
With nearly 500 employees, ThinkPalm has always stood out as a company that celebrates an environment in which innovation and employee dedication are the true pinnacles in customer satisfaction and success. ThinkPalmites are the heart and soul of a go-beyond culture that empowers the company to employ and retain a team that drives our competitive advantage. 
ThinkPalm has always stood by its employees in appreciating the good work in many formal as well as informal ways. 
The celebrations, festivities, and fun events at ThinkPalm engage employees by creating light moments and promotes bonding with their colleagues. 

The support group in the form of Sakhi proactively addresses women's issues and promotes their well-being. 

The organization also extends financial support to the employees as and when needed. 

Employees are encouraged to follow a healthy lifestyle by engaging them in wellness activities and health awareness session
How ThinkPalm Supported Their Employees During COVID-19
In the current time of uncertainty and rapid change, ThinkPalm authorities have taken proactive measures to assure that they are managing the vulnerabilities to employees and the general public, as well as resolving broader operational issues. 
The ThinkPalm management has stayed focussed on ensuring the safety of employees through frequent follow-ups directly from the CEO's desk and have also emphasized on creating awareness among employees. The remote work option was brought into action from the beginning of March 2020 itself, and employees were provided with devices and laptops to ensure a seamless working condition even at home. The HR team has also incorporated engagement activities and social media contests to keep Thinkpalmites entertained. The IT support team at ThinkPalm has also enabled a smooth transition to work from home through continuous assistance. ThinkPalm achieving 47th rank among the top 50 Mid-Size Work Places is a true reflection of our passion for creating an engaging, inclusive company culture.