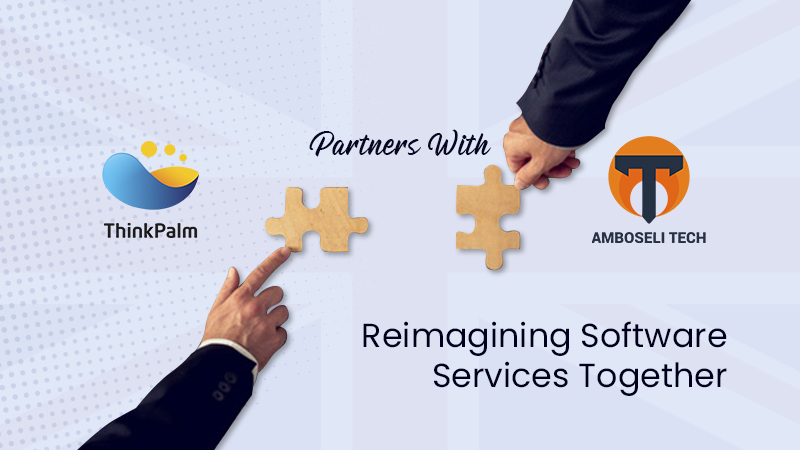 INFOPARK, KOCHI—Jan 24, 2022: ThinkPalm Technologies and Amboseli Tech Limited are pleased to announce their collaboration to introduce innovative and futuristic software products and development services to the UK market. ThinkPalm is a fast-growing product engineering services organization, bringing more than a decade of experience in successfully executing projects in Enterprise, IoT, Artificial Intelligence, and Communication verticals. It has technical capabilities in a broad range of technology domains including communications software, wireless technologies, edge computing, mobile and desktop applications, cloud systems, embedded software, databases, analytics, and AI. Amboseli Tech brings many successful years of experience in managing offshore development teams for small to medium enterprises as well as blue-chip organizations. This is combined with intimate knowledge of the UK market and what it takes to build and scale successful engineering organizations within tight budgets.
"We are glad to be partnering with Amboseli Tech on an endeavour to expand our presence in the UK market. Our expertise in IoT, Telecommunications, and Enterprise domains will ensure that innovative solutions are delivered to help customers across every industry. We are sure that this partnership will play a pivotal role in digitally transforming businesses for the future and can add more technical value for companies." commented Rejish Unni, Co-Founder, Director Sales & Marketing at ThinkPalm Technologies.
The combination of ThinkPalm's breadth of capability and Amboseli Tech's experience in managing offshore projects from the UK provides an opportunity for organizations with software development needs to benefit from talented development resources at competitive costs, whilst having a local presence in the UK to ensure the nearshore support as well. Tim Manning, Director at Amboseli Tech commented that "Amboseli Tech is excited to be working with ThinkPalm who have delivered on their promises in previous projects and looks forward to enabling UK organizations to realize their ambitions in software development."
About ThinkPalm Technologies
ThinkPalm is a Product Engineering and Software Services company, equipped with a holistic approach and diverse industry expertise in IoT, Enterprise, and Telecom sectors. With nearly a decade of knowledge and experience in project management and custom software development, ThinkPalm offers innovative bespoke software solutions enabling established and emerging businesses to deliver exceptional customer experience and measurable success in line with their corporate goals.
About Amboseli Tech
Amboseli Tech Limited is a UK-based technology development consultancy business, specializing in assisting small to medium enterprises to grow their engineering capabilities through successful development outsourcing. Founded in 2021, the founders bring a depth of experience in building technology organizations and in launching innovative products to the market.