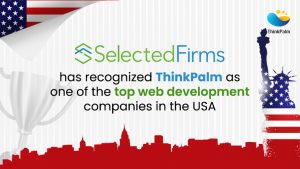 We are excited to announce that we have been acknowledged as one of the Top  Web development companies in the USA and Top IT services companies by SelectedFirms.
Website-integrated business has now become the new norm. Not to forget, the role of AI and machine learning in modern websites and app development has also taken the business world by storm. And by looking at the number of users attracted to a well-designed and responsive website, one could say that there has never been a better time to start investing in developing a website for your business. However, if you're in search of a web development company for your business, you might find it very hard to choose the right one among the thousands.
To help you with picking the right technology partner for your website-related requirement for your business, SelectedFirms have come up with a list of the top web development companies in the USA.
Why Did SelectedFirms Choose ThinkPalm?
SelectedFirms has transformed itself into one of the leading research and ranking platforms that work diligently and list the most efficient IT companies so that service seekers can meet the right technology partners for their business. SelectedFirms Team index the IT firms in the lists after analyzing every firm for the quality parameters and comparing them with its other competitor companies. And in a similar way, SelectedFirms has published a list of top web development companies in the USA to help their USA-based peers to find the best web development agency for their website-related needs. 
Looking at ThinkPalm's track record and exceptional work, SelectedFirms believed we deserve a significant place in their exclusive list of best web development companies in the USA. Led by a competent technical team, ThinkPalm® is one of the fastest-growing web development companies that started its operations in 2010. We believe in combining our business domain expertise with our overall technical experience to provide high-quality enterprise software solutions. As a leading web development company, we have built robust, innovative, and cost-effective websites for organizations ranging from startups to Fortune 500 companies. 
Such recognition by SelectedFirms and other review platforms is what drives us to perform consistently and provide the best solutions to our clients. 
About ThinkPalm Technologies
ThinkPalm is a Product Engineering and Software Development Company, equipped with a holistic approach and diverse industry expertise in Mobile and Web application development, Enterprise application development, Telecom IT services and IoT Services. ThinkPalm also enables companies to become data-driven and competitive with Artificial Intelligence services, Robotic process automation, Bigdata and Testing services. With over a decade of expertise and 600+ tech professionals, ThinkPalm develops innovative solutions that help improve business outcomes and has significantly helped companies achieve their dream of digital transformation.
About SelectedFirms 
SelectedFirms is a pre-eminent source for finding and vetting the supreme eCommerce, mobile, web and marketing companies on the web. It gives 100% true and believed bits of knowledge on top IT organisations and patterns around the world. Several clients from around the globe have found the right IT solutions partner with the help of SelectedFirms and has enhanced their digital adoptance journey.