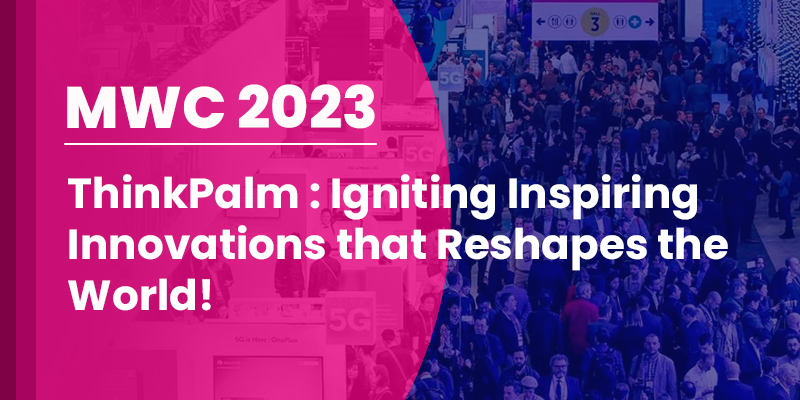 The MWC 2023 Barcelona is the largest and most impactful worldwide event for the connectivity industry. As one of the key players in the industry, ThinkPalm Technologies also participated and actively engaged in the event.
In these uncertain times, we were committed to providing our perspective, recommendations, and problem-solving strategies that were specifically tailored to address the challenges faced by Communications Service Providers (CSPs) and their clients in the telecom industry, with a primary emphasis on achieving growth. The purpose of our participation in the event was to foster meaningful conversations and contribute to the continued growth and development of the industry.
As the technology evolved rapidly, ThinkPalm remained committed to helping our clients stay ahead of the curve by transforming their business processes, adapting network usage, and adopting new technologies with our visionary communication solutions and services.
We have a state-of-the-art testing lab equipped with Spirent and Ixia devices. Moreover, our deep research in SD-WAN, SDN/NFV, cellular routers, and other innovative solutions gives us a comprehensive understanding of the constantly evolving communication landscape.
Invaluable Insights & Collaborations with Industry Players at MWC 2023
A team led by one of our founders, Rejish (Director of Sales & Marketing), a seasoned industry expert, was at MWC 2023. To address CSP queries, we responded and tried to resolve them by suggesting the right technologies and immersive experiences. Our goal was to enable them to innovate, grow, and balance their market position with sustainability.
Furthermore, these connections gave us invaluable insights into the industry's latest trends, technologies, and strategies. Additionally, we were able to exchange ideas and discuss potential collaborations with other industry players.
These connections gave us invaluable insights into the industry's latest trends, technologies, and strategies. We exchanged ideas with industry players, broadening our knowledge and expertise for potential collaborations.
Moreover, we showcased innovative solutions to a wide audience, highlighting our commitment to helping CSPs and clients succeed. We received positive feedback from attendees, reinforcing our belief that our vision and approach align with the industry's needs. All around, our participation in the MWC 2023 event was a resounding success.