Las Vegas, Nevada- January 1st, 2020: In just a few weeks CES 2020 will open its doors again in Las Vegas to flaunt the most advanced trends and possibilities in consumer technology. The Consumer Electronics Show will be held between January 7th- 10th and showcase more than 4,500 exhibiting companies, including manufacturers, developers and suppliers of consumer technology hardware, content, technology delivery systems and more; a conference program with more than 250 conference sessions and more than 170,000 attendees from 160 countries.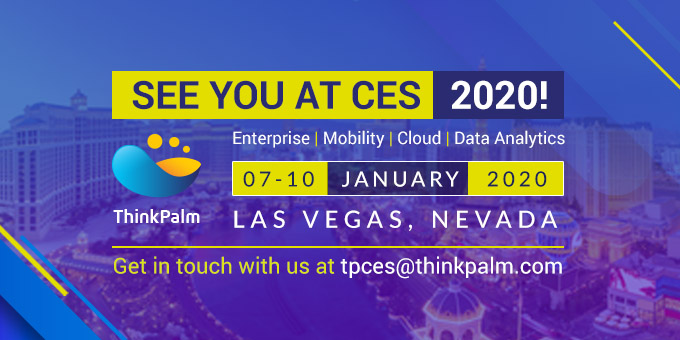 Giving equal importance to Artificial intelligence, this year's event will also focus on the incomprehensible advantages that the Internet of Things can bring to industries; from cars to drones and even ships, the latest innovations in Internet Of Things (IoT) technology is changing the course in transportation and the way we operate. At CES 2020, visitors will have the opportunity to understand the possibilities and challenges of implementing advanced IoT techniques and comprehend exactly what their business needs to grasp the digital transformation. From the adoption of exceptional manufacturing techniques to increase the overall efficiency of industries, IoT can help businesses to a greater extent. 
Companies, big and small, are leveraging enterprise IoT and consumer IoT to improve productivity, derive real-time insights from connected assets, reduce costs and to drive innovation through new business models. ThinkPalm's end-to-end Internet of Things services helps companies gain a sustainable competitive advantage by tackling the challenges of integrating wearables, sensors, networks, cloud and applications without compromising on security. With deep industry-specific knowledge and IoT technology expertise covering Firmware Development, Mobility, Cloud computing and Data Analytics, ThinkPalm can help you transform your business through informed decisions based on powerful data analytics.
Mail us at tpces@thinkpalm.com to schedule an in-person meeting with the ThinkPalm team at CES 2020.
For additional information on the event, visit CES.tech. To register, visit https://www.ces.tech/About-CES.aspx