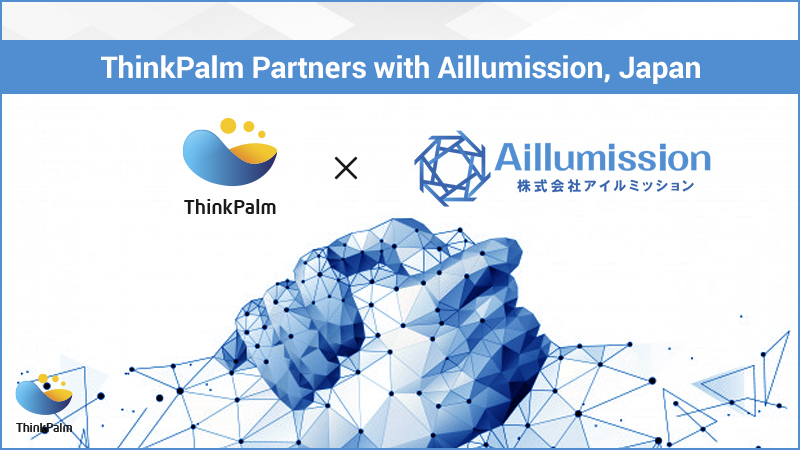 INFOPARK, KOCHI—February 19, 2021: Aillumission Co. Ltd, the leading AI and Telecom service provider in Japan has formed a business alliance with ThinkPalm Technologies, aiming to introduce innovative solutions to the Japanese audience. ThinkPalm will also be considered as a strategic partner for offshore software development and will undertake significant outsourcing services from Aillumission. This appointment comes as part of Aillumission and ThinkPalm's joint commitment to explore and realize business opportunities in mobile infrastructure, business automation, AI/ML and ICT areas for the Japanese market. This partnership will help jointly deliver on the promise to support customers with tangible business solutions that can potentially transform businesses and increase ROI. It will also combine unmatched experience and specialized skills of both ThinkPalm and Aillumission, providing more intuitive and cost-effective service for emerging companies all across Japan.
ThinkPalm will leverage its previous expertise in the product engineering and software services market to offer a full suite of existing products and client-centric solutions to create new and innovative business opportunities for Aillumission. This will enable Aillumission to transform its operations and provide strategic thought leadership around the digital transformation to help customers manage their IT portfolios.
ThinkPalm, a software development company, operates primarily in the telecommunications, digital transformation, product development and artificial intelligence/machine learning sectors. It helps its clients in defining, realizing, and managing services through custom solutions that bring innovation across the complete value chain. ThinkPalm also has proven expertise in helping organizations reshape their IT infrastructure by aligning business objectives and maximizing value on investments. This has helped them deliver technology-enabled services and solutions to clients not only from the Japanese market but also from around the world.
"We are honored to partner with Aillumission and I'm sure that together we can employ emerging technologies that deliver innovative outcomes to our global customers. We believe that customers looking for a digital transformation will greatly benefit from the strategic partnership of ThinkPalm and Aillumission. Our focus will be to build these capabilities and deliver quality solutions for every customer, accelerating digital transformation journeys with industry-leading technology platforms at the center." states Manoj K P, Founder, Director & CEO of ThinkPalm Technologies.
Currently, with three offices and over 500 tech experts, ThinkPalm has accelerated customers' transformation journey to innovate and adapt to a digital world. Through this elevated partnership status, ThinkPalm can further accelerate the development of its highly innovative, leading-edge solutions and services, delivering innovation to improve the way the world works and lives.
About Aillumission
Aillumission specializes in business automation services, network communication & security operations that utilize AI & robots in the ICT industry. This includes the internet, wireless networks, cell phones, and other communication mediums, which are indispensable for the realization of a CPS/IoT society. Aillumission provides a one-stop service for all areas related to mobile networks, including 5G/local 5G environment and construction support. Their series of services range from design, construction, and a combination of equipment construction for wireless networks (RAN) and core networks (CN) represented by WCDMA/LTE. Aillumission also provides business efficiency/automation/AI introduction consulting and solution development support through mobile/ICT network environment construction and system development. AI/robotics-related technologies such as Deep Robotics, Deep Analytics, Deep Mesh, etc are also some of the other innovative domains where Aillumission has displayed proven expertise and domain knowledge.
About ThinkPalm Technologies
ThinkPalm is a Product Engineering and Software Services company, equipped with a holistic approach and diverse industry expertise in Mobile and Web application development, Enterprise application development, Telecom IT services and IoT Services. ThinkPalm also enables companies to become data-driven and competitive with Artificial Intelligence services, Robotic process automation, Bigdata and Testing services. With over a decade of expertise in these domains, ThinkPalm develops innovative solutions that help improve business outcomes and empower operational efficiencies.