Client Overview
Our client is a premium provider of emergency communication and critical messaging services for leading security, military and homeland defense organizations.
Business Need
A path-breaking solution capable of providing reliable, high-speed wireless connectivity, irrespective of network type and network infrastructure facilities. The solution demanded the capabilities of scaling up to meet corporate network needs and remote management, without having to upgrade the existing infrastructure.
Challenges
The key challenges faced during the system design are:
The proposed solution had to employ cellular connectivity to address mobility requirements. However, the deficient bandwidth availability of LTE/UMTS infrastructure posed challenges in high-quality video streaming for mission critical military and life-saving medical applications. In order to address this challenge, a software solution was designed and developed that made use of all available interfaces by splitting and sending the data among the interfaces, based on a bonding algorithm.
The product was required to be battery-operated for most of the use case scenario. While designing, a key concern was to reduce power consumption which resulted in the development of low power consumption modules.
ThinkPalm Solution
A cutting-edge wireless connectivity facilitator was developed that offers the aggregated bandwidth for packet transmission between client station and remote server through frame level bonded multiple mobile interfaces. By aggregating up to four 3G/4G links to form a multi-WAN broadband connection interfacing with Ethernet and/or Wi-Fi, high-availability bandwidth of an ultimate tens of megabits per second is set up in minutes! The solution thus realizes uninterrupted, high-speed video streaming, encoding and IP telephony with reduced cost and complexity, across hybrid cloud, data center, local and wide area networks. End-to-end security of client-server communication is ensured through GRE/VPN tunneling.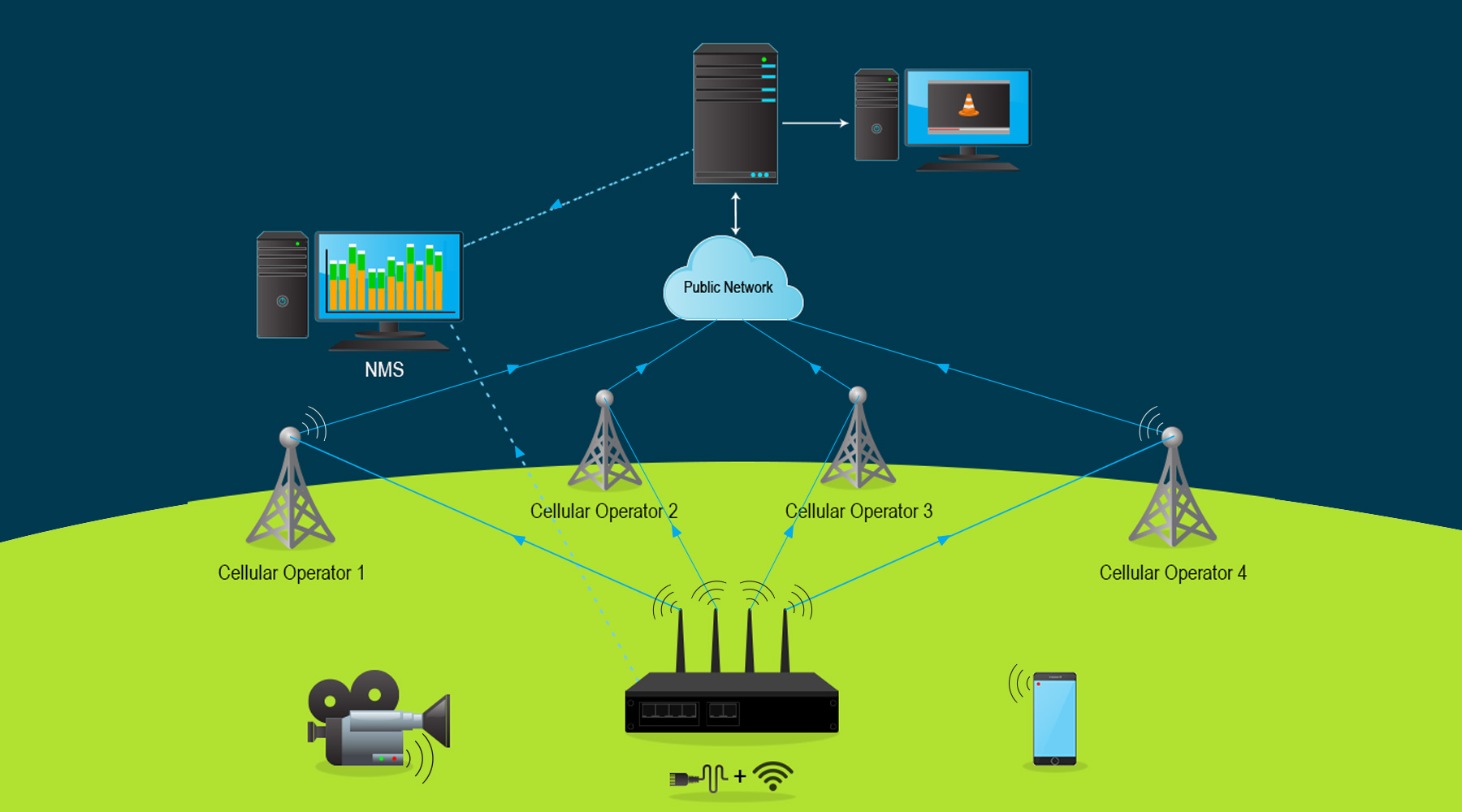 The solution goes a step further with cutting-edge Quality of Service (QoS) and Deep Package Inspection (DPI) functionalities that dive deep into real-time traffic characteristics and demand in customers' network. While load balancing can be an achilles heel in majority of communication solutions, our solution employs Five Tuple and Bonding methods for seamless traffic sharing. The full-fledged NMS server with graphical rich software realizes real-time traffic monitoring, network device discovery, event notification and interface/command configuration.
Key Features
2G/3G/4G, LTE cellular network support
4x bandwidth and reliability
Real-time bandwidth calculation
QoS and DPI functionalities
GPS support
Video streaming between LAN interfaces
SNMP, NETCONF protocol support
DIAMETER for AAA
Technologies Used
HDMI, SNMP, REST API, IPv4, IPv6, VLAN, PSK
Benefits
Accelerates network speed and reliability for business-critical broadband
Saves bandwidth costs
Bonds all wireless connections
Avoids network loss with multi-modem bonding
Harnesses modems internally
Provides load balancing and intelligent failover
Offers bandwidth allowance control
Provides VPN 256-bit AES encryption for highly secure communications
Contains a built-in Wi-Fi interface delivering Wi-Fi mesh capabilities
Reduces costs by prioritizing links
Automatically switches to best available link
Easily mountable on any vehicle
The capacity of the router to provide instant, secure, flexible, cost-effective and high-speed connectivity, anywhere and everywhere, make this an unparalleled product across Healthcare, Disaster Emergency Response, Automation and Education industries.
Download the case study now! Cellular Routers